Address:
Latham
,
NY
,
12110
42° 45' 37.7856" N, 73° 44' 31.6896" W
Contact name:
Deanna Stickles-Bach, Director
Business/organization type:
What our organization offers:
Seasons in which we offer activities (select "All seasons" for all):
Ages for which our activities are most appropriate:
Drama Kids provides remarkable creative drama education for children and young adults. We are the most popular after school drama program in the world, and have provided innovative programs to tens of thousands of children in the USA since 1999.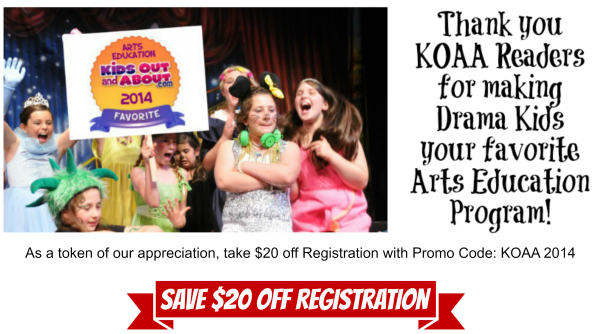 Register on-line at www.dramakids.com
CLICK HERE TO VIEW A DRAMA KIDS INTERNATIONAL VIDEO
We are continuously taking new enrollments! You may register online at www.dramakids.com/ny5, email dramakids@nycap.rr.com, or call (518) 458-1313.
Arts: Performance, Drama, Film
Organization learning resources
Title
Description
Cost
Drama Virtual Classes for Kids & Teens

At Drama Kids, we know that Drama Develops Kids! We are committed to making sure your student receives an excellent experience in developing their speaking skills, confidence, and acting abilities through the exciting experience of our fast paced program - in-person OR online. We thrive on giving children the best gift ever: the gift of CONFIDENCE!

We are actively working on our in-person and virtual class offerings for Fall.  Please email us at dramakids@outlook.com to be added to our mailing list, so you'll be first to hear about our new class schedule for 2020-21. 

To see pictures & video of some of the amazing and fun work we do, connect with us on Facebook at www.facebook.com/DramaKidsoftheCapitalRegion or on our Youtube www.youtube.com/user/dramakidsalbany.

Early Elementary School

Late Elementary School

Middle School

High School

Drama Classes for Kids & Teens

At Drama Kids, we know that Drama Develops Kids! We are committed to making sure your student receives an excellent experience in developing their speaking skills, confidence, and acting abilities through the exciting experience of our fast paced program. We thrive on giving children the best gift ever: the gift of CONFIDENCE!

We are actively working on securing space in which to hold small-group, in-person classes for Fall.  Please email us at dramakids@outlook.com to be added to our mailing list, so you'll be first to hear about our new class schedule for 2020-21. 

To see pictures & video of some of the amazing and fun work we do, connect with us on Facebook at www.facebook.com/DramaKidsoftheCapitalRegion or on our Youtube www.youtube.com/user/dramakidsalbany.

Early Elementary School

Late Elementary School

Middle School

High School