Playgrounds in the Albany-Troy-Schenectady Area that are worth a trip
By Katie Beltramo
Playgrounds are the best. Active and creative play, new friends, no admission cost, and plenty of fresh air after being cooped up for the long winter. When my girls were younger, we'd meet our friends and spend all morning playing, enjoy a picnic lunch, and then take a quiet, slow drive home for naps.
You've probably already got a favorite playground, but there are plenty around the Capital District that are worth a trip. Here are a few:
The Crossings at Colonie might be the area's favorite and with good reason. There's a variety of equipment that's all still fairly new, that squishy surface that we moms love, and a huge sandbox. Beyond the playground itself, the park has bike paths, a fun maze, bathrooms, vending machines, tables with pavilions, and a duck pond. For some, this playground is simply too huge: if you have multiple kids, it can be difficult to keep track of them. Competition for the relatively few baby swings is keen, and the playground area is not fenced. It can be breezy on cold days and blistering hot during the summer. On a beautiful day the Crossings is jam-packed with people, but even then, it's hard to resist.
Central Park in Schenectady is another great park destination. The "Tiny Tot Land" portion was recently renovated, so there's plenty of brand-new equipment designed for the toddler-preschool including several baby swings, and a soft surface (it was replaced last year after installation issues). This area is fenced in, and beyond it, you'll find biking and hiking trails, a zero-entry pool, bathrooms, a lake, and at peak times, paddle boats and an ice cream stand. Across the parking lot, there's another larger playground structure that soars up high along with a bunch of new swings. These replaced the much-beloved "old school" metal equipment that was removed in 2017. There's also a small creek. Central Park also has plenty shade, making it a great hot-weather choice. My children love exploring the rose garden (great for photos!) and playing on the Music Haven stage as well.
Kids' Creekside Village Playground at Kelley Park in Ballston Spa is a wonderful playground that looks like a village out of a fairy tale. The entire playground is enclosed by fencing, it's got a squishy surface, and there's a separate enclosed area for toddlers as well as plenty of baby swings. It's set in a field, and there's a lovely little nature path that you can follow to get to a creek that's always a hit with the kids. This playground closes if it's considered too icy to play, so take this into consideration if you're planning a trip on a chilly day.
Butler Park in Averill Park is only a couple of years old, and it was created with a futuristic theme. There's plenty for younger kids to do along with baby swings, but the play structure for older kids also has unique pieces that you won't see at other playgrounds. The surface is wood chips and there's a bathroom and fields for running with abandon. It's a bit close to the street, so be careful if your child's a "flight risk," especially around school dismissal time, since it's close to Averill Park High School.
Indian Meadows in Glenville is a fairly new playground set in a great wild space. There's equipment appropriate for younger kids, but the big attraction is the three-story structure with two enormous, scary slides. There are baby swings, a wood chip surface, and fairly convenient bathrooms. There are also picnic tables and a pavilion, nearby tennis courts and fields, and trails to explore. My kids love taking a hike on the nature trails toward the nearby Y, where we they're always delighted to discover the surprises there, including a small stage and some team-building equipment that they love to explore.
Clifton Commons in Clifton Park is one of those classic wood-and-tire playground creations. Kids love winding their way through the equipment, although parents who want to keep an eye on them might find it challenging to do so. There are baby swings and the surface is wood chips, and the entire playground area is fenced in, with a small raised area for picnics. There are fields and a performance space nearby, and bathrooms are a bit of a walk, but still accessible. The best part of the playground for many kids is that during the summer you can often find an enormous mountain of snow in the parking lot, dumped there by the zamboni from the adjacent ice arena.
Washington Park in Albany has a blend of newer equipment as well as "old school" metal equipment, like the once-popular, now-endangered merry-go-round. The newer portion is all set together on a wood-chip surface, and other pieces are spread out over a fairly wide expanse of grass, which can make it difficult to keep track of kids. Bathrooms are located a walk away at the Park Playhouse amphitheatre, which can be a destination in itself among stairs-loving kids or to see their summer kids' musical. The rest of the park is a lovely walk, especially around tulip season. Before my kids started school, we liked to visit each year during the week before the Tulip Festival on Mother's Day weekend, so that we could see it all before the crowds descended.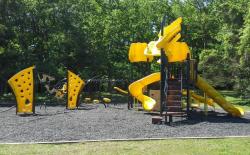 Thacher Park in Voorheesville offers much more than a great nature center. They have plenty of fun, including newly installed 80-foot zip lines (follow signs for Horseshoe II to find them). The new Pear Orchard playground has a pavilion and is located near the must-hike Indian Ladder Trail and has picnic tables and a bathroom nearby. The main structure has plenty of slides, climbing opportunites, and musical fun, and it's great for lava tag. There's a smaller structure nearby that's suitable for toddlers, including a baby swing.
Phew! Those are a few of my favorite playgrounds that are worth a trip. Do you have others that you'd recommend?
---
Katie Beltramo is a mother of two, communications director at KidsOutAndAbout.com, and publisher of Capital District Fun.