The Wild Center in Tupper Lake, New York
(Click here to get back to the main Lake Placid review links.)
It seemed counter-intuitive to leave our cabin in the woods and drive to a museum to experience nature, but we were so glad that we spent an afternoon at The Wild Center, the Natural History Museum of the Adirondacks. It's a new museum with terrific indoor and outdoor exhibits that are appealing for to all ages, as well as plenty of activities.
The facility itself is beautiful, with windows part of the entrance hall directly against water, and there are trails all around to explore as well. Tickets are $15/adult, $9/child age 4 to 14, and  children 3 and under are free. There's a café with child- and adult-friendly fare and seating indoors and out.
Exhibits were interactive for the kids, with plenty of chances for them to use their senses. In an early section on the glaciers, there was a huge block of ice that visitors could touch, and older kids who would have normally rushed by the text lingered next to the mini-glacier, pressing fingers to leave an impression and incidentally reading about the ice age while melting ice dripped onto wrists. Our kids loved the cloud machine: it was funny to watch child after child dip their hands through tentatively, pause, and then deeply inhale in order to breathe a cloud.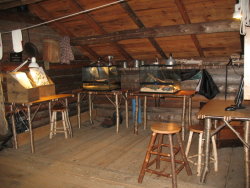 There was a replica naturalists' cabin that looked like something you might see behind a rope at another museum. Here, the stools, stacks of pressed plants, and small tanks were accessible, making it the perfect setting for a couple of imaginative preschoolers to "play naturalist" all morning on a quiet day.
Even the "no-touch" exhibits were interesting, including a tank of river otters and some of the most beautiful mushrooms that I've ever seen.
But there wasn't much time to linger, with a large space devoted to interactive media and the kids' favorite area indoors, a classroom set-up with cabinets full of nature discoveries. At most museums, extra activities are tucked away, accessible only with staff guidance. But at the Wild Center, staff smiled benignly as we rummaged among the various activities. And what was available reflected that the planners know kids. Brightly-colored small drawers revealed little treasures for the youngest visitor (just be careful if you have a "tastes everything" toddler), a display offered different animal droppings (a sure hit with—ahem!—a certain segment of the population), and the hands-down kid favorite was a monitor that allowed visitors to control a series of time-lapse photographs. Our 17-year-old boy and 6-year-old girl both found it difficult to tear themselves away.
My favorite section was a sensory extravaganza that helped tune visitors into observing the natural world around them. Sample smells, animal tracks, and recordings of common wildlife provide an atmospheric and interactive exhibit that acts as preparation for an outdoor hike. As a bit of a museum geek, I was struck, again, by the thoughtful choices that were made throughout the museum space, like a sign that reminds adults and kids, in a playful way, what not to touch.
We enjoyed hiking the trails, but The Pines area was special. Stumps, sticks, and roots provide a nature-inspired play place. It's steps away from the parking lot, so it's convenient if you want to let kids run off some energy just after (or before) a car ride.
---
© 2011 Katie Beltramo. Katie is the Albany-area editor of KidsOutAndAbout.com. She also blogs at CapitalDistrictFun.com.