Take a Ride Up Whiteface Veterans Memorial Highway Near Lake Placid
(Click here to get back to the main Lake Placid review links.)
If your kids aren't quite up for becoming Adirondack Forty-Sixers yet, a drive up the Whiteface Veterans Memorial Highway provides a little mountain adventure for much less work.
To drive up, you'll pay a toll ($10 for the driver plus $6/passenger, or covered by the Olympics Passport), but our family thought it was well worth it. Apparently others agree, because there are about 70,000 visitors per year. Once you park, you can choose between a stone staircase or a tunnel and elevator that were carved deep into the mountain by Depression-era workers under the leadership of President Roosevelt, who made accessibility a priority.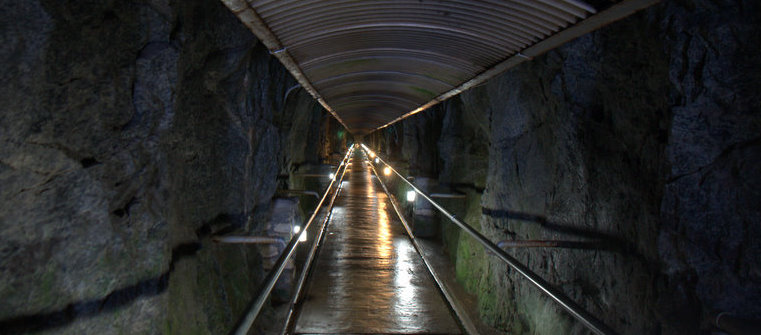 Our girls loved the tunnel and climbing around on the rocks at the summit. You can bring a picnic, too. Just be aware of weather conditions: During our visit, we were literally trapped in a cloud, and all of that dampness meant that the stone staircase was closed for safety. It's also much colder at the summit of the mountain, something obvious to mountain-dwellers but less obvious to us. Hey, you've got the car with you, so bring an extra fleece just in case. And then, you know, maybe bring another one, too.
For another easy mountain climbing adventure near Lake Placid, try Baker Mountain.
---
© 2011, Katie Beltramo
Katie Beltramo, a mother of two, is Editor of Kids Out and About-Albany and blogs at Capital District Fun.
Photo by Wade Beltramo.