A Sweet Trip to Hersheypark!
By Meg Brunson
It's been more than 20 years since I visited Hershey, PA, as a child, but it left such a lasting impression that we drove nearly 2 hours off our scheduled path just to give our kids the full Hershey experience - and it was deliciously fun!
Let me start off by clarifying some things that I was confused about... first of all, Hershey's Chocolate World and Hersheypark are two separate places - but they conveniently do share the same parking lot, and are both official Hershey owned establishments.
Hershey's Chocolate World is the visitor center. It houses a ginormous Hershey's gift shop full of Hershey's themed clothing, knick knacks, and (of course) chocolate! There is a food court and a FREE chocolate factory tour that everyone visitng Hershey, PA absolutely must experience. Because the chocolate tour is free, and the venue was crowded, we expected a really long line. The line was relatively long (though not bad!), but the area where you wait in line was perfect - the walls telling the story of Hershey's chocolate and the production process - so it was very interesting to read as we waited. The chocolate tour itself is a train-like ride that brings you through a realistic retelling of how Hershey's makes their chocolate. My kids all 100% believed it was the actual factory that produces their favorite chocolate - and it was certainly the closest I've ever gotten to a real life Willy Wonka's Chocolate Factory! At the end of the tour, everyone receives a sample of chocolate - yum!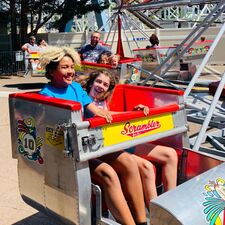 Hersheypark is the amusement park - located just past Hershey's Chocolate World - and I'm pretty sure it's my kids' dreams come true!
Before we talk about Hersheypark itself, I have to tell you about a couple things we absolutely loved that are not ride-related:
The Height Measurement System - this was exceptionally well done and creative! Outside the entrance to the park they have candy characters that make the perfect photo op, but they also use those candies as their measurement system!  So my kids stood next to each line and were able to identify that the little two were Reeses Peanutbutter Cups, Alex was a Twizzler, and Kailyn was a Jolly Rancher - this made it easy for them to remember - and the rides were all labeled with which candy types can ride the rides.
The Hersheypark App - we've downloaded a lot of apps at different parks, and Hersheypark definitely got it right with this one! The map is interactive, so you can filter by candy type (so I can find all the rides my kids are big enough for!), and we used the app to search for different places to enjoy lunch. We loved that we were able to filter by location, then look at the menus to find the places that would suit all my picky eaters! And once you found a place (ride/restaurant/restroom/etc.) you wanted to get to, the map would show you the route you needed to take to get there - a big help in a big park that really let us maximize our fun! 
Now, let's talk about the rides! Hersheypark has fourteen rollercoasters - and the fifteenth is under construction and scheduled to open in 2020. Now, my kids are not huge fans of coasters, but my husband is - and he was in rollercoaster HEAVEN!  There was no shortage of rides for the kids to enjoy either - many of the little kid rides allowed "companions" so that all the kids could enjoy them (even though they may have been a tad small for my tween!). Any anytime there was a ride that the older kids wanted to go on that was inappropriate for the little ones, I was able to use the app to find a nearby ride they could enjoy and we split up for a little bit to let everyone enjoy their rides. 
We packed our day FULL at Hersheypark (and Hershey's Chocolate World) and I'll tell you - there were STILL rides that we did not ride, and attractions we didn't see. When we return in the future, I will definitely want to experience some of the additional activities at Hershey's Chocolate World, and we'll be sure to start by hitting the rides we ran out of time for! Hershey, Pennsylvania is truly a hidden family-friendly vacation destination and my only regret is that we did not stay closer and/or allocate more time to experiencing all that the park has to offer... next time!
---
Read about some of the other adventures we're having on our Year-Long Road Trip!
---
© 2019 Meg Brunson
Thanks to Hersheypark for sponsoring this review. All opinions expressed are my own. See more on Instagram!
Meg is a mommy blogger, Facebook marketer, and much more. She is a mom to four kids who live full-time in an RV exploring the US! As a former Facebook employee, Meg remains a Facebook addict and handles KidsOutAndAbout.com's Social Media Marketing in addition to providing freelance services for other small businesses on how to best leverage Facebook as a part of their marketing strategy. Meg also hosts the FamilyPreneur Podcast, a podcast for parent entrepreneurs raising entrepreneurial children. Learn more about Meg at MegBrunson.com!