Review of WonderWorks in Syracuse, NY
by Katie Beltramo
As the weather gets cooler, I start wondering how we're going to stay active all winter, and over the weekend, my family and I visited Syracuse, a great destination for a family getaway that's about two hours away from the Capital District.
We were lured there by the opening of the brand new indoor amusement park, WonderWorks. WonderWorks, located within the huge Destiny USA mall, offers more than a hundred different interactive exhibits including Canyon Climb Adventure, the "world's largest indoor ropes challenge course!"

The premise is that a top-secret scientific research lab landed upside-down in the mall after an experiment went awry, and as visitors approach WonderWorks, it looks like a massive building has crash-landed upside-down on top of the mall. It was so convincing that I had to spend quite a bit of time convincing my 8-year-old of the whole area's structural integrity. Once she understood that it was all in fun, though, she embraced the story, and she was the observant one in the family who insisted that we all look up while we were at the ticket counter: good thing, because it was a fun view!
WonderWorks is billed as an attraction for all ages, and this is largely true. It is probably most ideal for the 6- to 16-year-old age group, and a few of the activities include height requirements, but there is a wide enough variety to please almost everyone, and on our visit, I saw adults who seemed quite as gleeful as the kids.  For the very young, one favorites is likely to be the Kids Zone, with accessible fun in an area outside of the main traffic pattern, so that you can successfully corral the little ones. Another section with immense little kid appeal is the Bubble Lab, which offers plenty of opportunities for hands-on fun in a spick-and-span section marked off by gleaming white tiles. Ticket pricing begins with age 4, so while there's not too much that's toddler-focused, it won't cost you anything to bring them along.
This wide appeal at WonderWorks might be its greatest strength. Families with multiple children to please know that it's tough to find something that will offer the opportunity for participation for a five-year-old without making a fourteen-year-old roll eyeballs that something's "for little kids." Teens will love this place just as much--possibly more--than their younger siblings.
The only limit is that WonderWorks is very overstimulating. And by "very," I think I might mean "profoundly." Attractions include music and sound effects, kids are stomping on the giant piano constantly, and there are several games in which players try to move a ring along a path without touching metal-to-metal, sort of an old-fashioned "Operation" style activity, and when players fail—and they usually fail—the game makes a high-pitched electronic chirp that will invade your brain. The whole area is visually stimulating, too, and the combination is likely to induce tantrums and migraines among young and old. Fortunately, you're allowed to leave the main exhibition space and come back throughout the day. Plan to do so. You can find food around the mall [link to my eating review] or plan to do the Canyon Climb Adventure in the middle of your visit as a change of pace. Honestly, there's enough to do that I'd make a visit to WonderWorks your only major activity for the day, and I'd pack (or leave in the car) books to read, any nap-comfort items, and some Advil (I am not even kidding) so that you can take a little break if you need to do so, then come back for more, more, more fun.
Because there's so fun much. Any great amusement park has rides and WonderWorks has Wonder Coasters, the Astronaut Training Challenge, and Extreme 4D Theater. The Extreme 4D Theater offers a roller-coaster-style "ride" that is an excellent start for the young or coaster-wary visitor. The moving chairs can be stopped on request, and parents and children can just bail out if they want to: a luxury one doesn't have at your typical amusement park (if you've ever experienced the misery of a terrified child while you're both trapped on the ride, you'll understand how valuable this experience can be.
There's an emphasis on science, and visitors who love to explore space will love climbing into the shuttle lander or "trying on" the space suit. Weather disasters are another big topic, with a Hurricane Shack and interactive exhibits on weather patte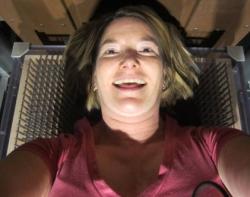 rns. Some of the exhibits rely on scale. The Wonder Wall, for example, is just a people-sized version of a pin art toy and a huge screen makes searching for locations using Google Earth more impressive than on your home computer screen. Still, the Wonder Wall was one of our kids' favorites.
There were a couple of unusual activities that I'd never encountered, and this is from someone who's been to more than her fair share of science museums. Mind Ball offered a competition on concentration and focus. If you choose to try this, you might want to arrange the competitions as adult vs. adult or kid vs. kid. Not to sound smug or anything? But we adults pretty much clean up in the "concentration and focus" fields.
There are arcade-style favorites, like Recollections, where visitors dance and watch their rainbow of images echo their movements on a screen, or you can pretend to fly a fighter jet or play a game of laser tag (there are separate tickets for the laser tag). My older daughter and husband were the Wonder Park, where they both kicked soccer balls against a virtual goalie. Baseball players can pitch to their choice of famous virtual players.
 Our family agreed that the single best WonderWorks attraction is the Canyon Climb Adventure. We loved it. It's an indoor ropes course that is located outside of the main exhibit space and over several sections of the rest of the mall. Having spectators point and gasp below you makes the exhibit seem even more exciting. It is scary and fun.
Participants are strapped into a harness that remains tethered as you work your way around the course. You begin by climbing a set of stairs and walking out onto a catwalk with rails, nice and secure, and from there you can choose which way to go. What I loved most is that there isn't a single prescribed path. Instead, you arrive on a platform and are faced with a choice of a few different options, and you can decide whether you want to challenge yourself or play it safe. Although unlike the main exhibition space you can only enter one time, you can continue to explore the space for as long as you'd like. Along the way, friendly staff members offer encouragement to the frightened, fuss over your harness if you need assistance, and point out more challenging paths for the intrepid.
If you're planning to do the Canyon Climb ropes course, be prepared! Visitors must be at least 42" ( 3'6" ) with an adult or 48" ( 4' ) to participate alone.
---
If you're planning a weekend trip to Syracuse, is there anything else fun to do? You bet! And I've written about it in a separate article: Pole Position Raceway, Rosamond Gifford Zoo, and Other Family Fun Spots in Syracuse!
---
© 2012 Katie Beltramo
Katie Beltramo, a mom of two, is editor of Kids Out and About for New York's Capital Region. She also blogs at Capital District Fun.