Review of Greek Peak Mountain Adventure Center & Hope Lake Lodge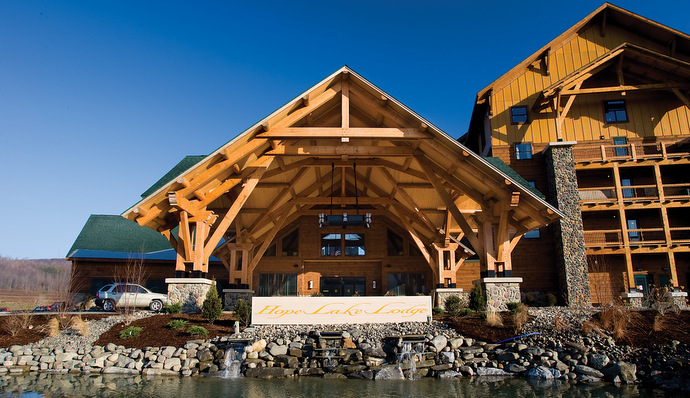 by Katie Beltramo
Greek Peak is a beautiful and welcoming destination, but what makes it so special is the sheer variety of activities, making it an ideal destination to find something for everyone to love in one resort area. Whether you're looking for fast-paced and challenging adventures like mountain biking or a ropes course, a lovely setting for drinks by an open fire, serene morning yoga, or bouncey, splashy fun for little ones, you'll find it all.
Cascades Indoor Water Park, which we've reviewed in the past, is a fantastic and fun destination for young families year-round. Tweens will love the water slides and the adjacent Starlight Arcade, and grown-ups will appreciate that they can purchase a cocktail and lounge in the hot tub. Plus, there's plenty of variety in the water attractions as well as safety measures like space set aside for the little ones and vigilant life guards.
In the winter, Greek Peak offers downhill and cross-country skiing trails as well as three different terrain parks for boarders. For our July visit, our family was excited to check out the attractions at the Adventure Center.
Adventure Center
Greek Peak's Mountain Adventure Center offers a variety of different attractions, and our family was able to enjoy three fun adventures.
Mountain Coaster
If you've never tried a Mountain Coaster before, you will love it. A Mountain Coaster uses the natural gravity of the mountain combined with plenty of fun twists and turns.
Kids ages 3 and up who are at least 38″ tall may ride the coaster. Kids who are 6 and younger or who are less than 54″ tall must ride with an adult, although the perk is that those 3- to 6-year-olds ride FREE with an adult, so if you have a few adults coasting, you may want to space out your rides so that your little one can go again and again. For adults and bigger kids, you may choose to go alone or with another person, and the person in back controls the brakes.
A staff member helps ensure that you are buckled in safely, then you take a picturesque ride up the hill—an excellent time to take pictures—before you set off down the mountain. It's a quick but thrilling ride. Keep in mind that if you love this coaster, you can upgrade to the three-ride pass or the unlimited day pass: just go back to the counter and they'll charge the difference.
Zip Line Tour
Zip Line Tours are small group tours that offer four zip line trips along with a bit of light hiking led by two experienced zip line tour guides (we were helped by Lindsey and Grant). You start by putting on your equipment (a harness and helmet to wear as well as the trolley you'll use to zip, worn backpack-style), then troop out to learn the basics of zip-lining.
We found that this tour is particularly well-suited to first-time zip liners or nervous zip-liners. That's because each time you go, you'll have a staff member by your side, ensuring that you're absolutely secure, before you take off. Another staff member is waiting at the end of your ride, reminding you of the best positioning as you finish your ride and shouting out encouragement. The harness that you wear is also a bit larger than what you might have seen with other zip lines as well as what the guide wears: in effect, it feels like you're carrying along your own mini-seat, which feels a bit more like you're in a swing than floating free. The landing set-up is also designed for maximum comfort and security: each zip ends in a large landing area with lines that have padded, shock-absorbing springs. And for each zip line, two people can take off simultaneously, which is reassuring for nervous zippers and also keeps the group moving at a fairly quick pace.
The guides explain techniques, like that you'll go faster if you hold a tight "pencil" and you'll slow down if you assume a spread-eagle position to take up space. You can see the effect in the brief video below.
Between zip lines, there's a bit of walking through the woods and two rides up a slow conveyor belt to reduce your uphill climbing. That means that you'll spend a few minutes on zip lines for the tour, which can last 90 minutes to an hour depending on the size of the group. For a mixed group of family or friends who vary in their desire for activity and adventure, it's excellent social time. If you and your family are eager for high activity and adventure, they'd likely prefer the High Ropes Course.
High Ropes Course
We had so much fun exploring the High Ropes Course in a picturesque woodsy spot over a babbling brook. Our guides Andy and Steven started our 2-hour adventure by getting us suited up with our equipment. Each participant wears a harness, a helmet, and gloves. In order to move safely around the course, you're always attached to the equipment by one of two metal claws extending from your safety harness that locks onto the equipment. To release the lock on one claw, you attach your second claw and ensure that it's locked and secured by clicking into a key called a tweezle. If this sounds complicated, it's not, once you get started, and the guides talk you through the process on a small training area before you ascend to the first level.
The High Ropes Course consists of two courses of level one (green) challenges, a level two (blue) course of challenges, and an extremely challenging (black) course that we did not attempt. Participants must complete the easier levels before they can ascend to the more challenging levels, and there are age and height minimums as you ascend (see details here; minimum for easiest level is age 7 and 48" tall).
Once you've received your training, you are free to explore, choosing which green course to begin on and proceeding at your own pace. Although we were in a group, there was very little waiting, since we quickly spread out among the green and blue level courses. We appreciated that the beginner challenges was broken up into two different courses, since that helped eliminate any traffic back-ups with folks who were struggling. Challenges include balance walks, shaky bridges, zip lines, and more. We had plenty of time to get through the beginner and intermediate courses and even repeat a couple, which was fun. Before our time was up we were ready to take a break and get a drink. Throughout our exploration, our guides helped from the main platform, shouting encouragement and tips and offering rescue when needed. Shortly after I started I found that my helmet was getting loose, and someone quickly found me a better-fitting option so that I barely had to pause in the action.
The ropes course is close enough to the main Adventure Center and the Mountain Coaster that, if you were in a mixed group, you could easily have a parent with a little one riding the coaster repeatedly, teens up in the high ropes course, and grandma situated at a picnic table with a cool drink able to check in with everyone.
Of course, all of the attractions are fun, but if you must choose, which attractions are right for you?
If you are beginner to adventure attractions: I'd recommend choosing the Mountain Coaster and the Zip Line Tour. Both adventures are easy even if you don't consider yourself particularly strong or in shape, and you'll have the reassurance of a friendly staff member to ensure that you are buckled in tight and entirely safe.
If you are a seasoned adventurer: I'd recommend choosing the High Ropes Course and Downhill Mountain Biking. Both attractions require some skill, strength, and daring, and they also offer you plenty of flexibility and independence to find challenges for yourself.
Accommodations at Hope Lake Lodge
Hope Lake Lodge is ideal for families and groups because their rooms are super well-equipped with everything you need for a home away from home. Our family of four was pleasantly surprised by the spaciousness of our suite. Along with the pull-out sofa, there was a double-sized Murphy bed in the main living space (it's that cabinet on the far right), and we really appreciated that we could enjoy a bed while still using our sofa (or I could have comfortably brought along two of their friends). The kitchen offered a full-sized refrigerator, microwave, dishwasher, and all the basic supplies we needed for cooking along with a table and four chairs so that we could have comfortably eaten meals in the room if we weren't so eager to check out the restaurants. Beyond your room, the fitness center is clean and packed with so much equipment that I wished I'd brought my workout gear and laundry facilities are available, which I always appreciate. The lobby is lovely and staffed with friendly faces who offer up fun activities and treats (we enjoyed bags of fresh movie-style popcorn and hand-painting and temporary tattoos). Best of all, the outdoor patio includes plenty of tables and chairs and gorgeous fire tables set just beyond the lobby, so there's space to linger and enjoy the stars in the mountain setting.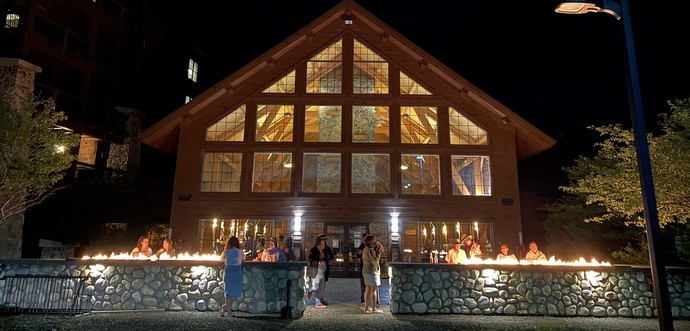 Dining at Greek Peak
Carvers Steakhouse is the main restaurant at Hope Lake Lodge, and it serves breakfast, lunch, and dinner, as well as late-night options. In keeping with their environmental consciousness (Hope Lake Lodge is LEED-certified), they offer vegetarian and vegan options along with a variety of steakhouse classics (see the menus at this link). Our dinner at Carvers was fantastic. For most of the dinners, each person chooses their main entrée and then big sides are served family-style. Some of the items we especially enjoyed were the Five Cheese Spinach Artichoke Dip (if we had been our home I'm sure someone would have swiped their fingers around the bowl to get every last bit), the Shrimp Scampi, and a scrumptious Chocolate Lava Cookie for dessert.
Across the street from Hope Lake Lodge at the Mountain Biking/Skiing facility, you'll find Trax Pub & Grill, which offers more casual fare like subs, burgers, wraps, pizza, and nachos. This is a great option for a quick stop in between your various outdoor adventures, plus you can hang out on the deck and sample a wide variety of craft beers. They're also locally famous as a great brunch location, and they do a yoga & brunch combination. Most helpful for families, though, is that you can order online with free delivery (click here for details and a link for online ordering), so if you've exhausted yourself with all that fun and want to feed your kids a real meal without worrying too much about table manners, Trax has you covered! Of course, you can also pick up snacks and other essentials (like Starbucks coffee) in the gift shop in the lobby at Hope Lake Lodge. 
More Fun at Greek Peak
There's far more fun around Hope Lake Lodge and Greek Peak to fully describe it all, but here's a taste of what else you'll find:
On weekends, you'll find a variety of activities like scavenger hunts, yard games, crafts, and nature excursions for kids.
On Friday nights in the summer, take in a drive-in movie with take-out refreshments from Trax.
Located just behind Hope Lake Lodge, Hope Lake Park has a lake with a lovely little sandy beach and kayak rentals.
At the Adventure Center, a bounce house and swings will keep little ones entertained while older kids are adventuring, and did I mention that there's a Eurobungy?
At Greek Peak, you can enjoy SkyTour chair lift rides or bike along cross-country trails if downhill biking feels a bit too ambitious.
Who Will Love It
Literally anyone can find something to appreciate about Greek Peak and Hope Lake Lodge, and that's why it's an excellent place to gather a group. During our stay, we saw a bachelorette party, a tween birthday party, and plenty of mixed family groups all having a wonderful time. Its location lends itself well to a reunion of folks scattered across Upstate and Western New York, and it's also a great hub to add some fun for college visits (can you tell I'm a parent of teens? But really, SUNY Cortland, SUNY Binghamton, SUNY ESF, Syracuse, Cornell, and Ithaca College are all less than an hour away!). It's also truly a four-season resort. As I zipped through the forest, I couldn't help but think about how beautiful the same activity would be in autumn.

---
©2021, KidsOutAndAbout.com
---
Katie Beltramo is Communications Director at KidsOutAndAbout.com. She is mom to two daughters and two cats, and she also blogs at CapitalDistrictFun.com.