Visiting Sedona, AZ
-by Carol White Llewellyn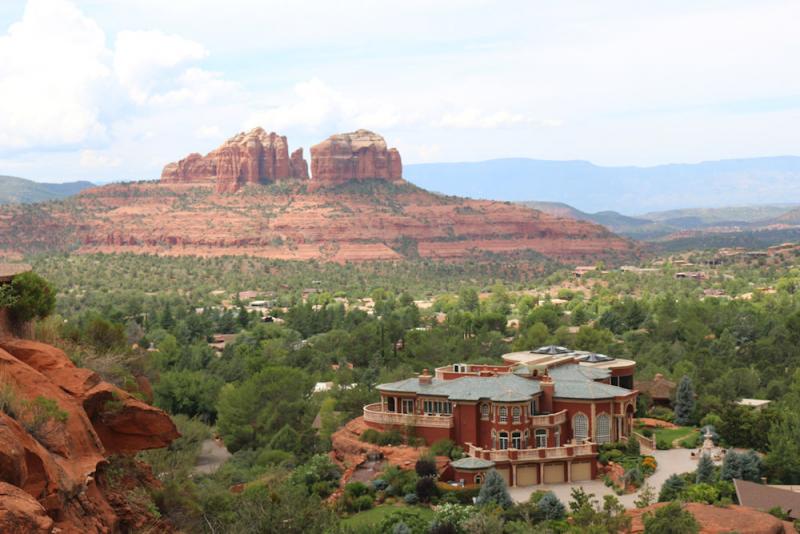 The first time I visited Sedona, around 1991, I fell in love with the sleepy, charming little desert town. I'd driven north from Scottsdale, where I'd just finished a conference, and as I rounded a bend and encountered Red Rock Country for the first time, I felt such awe I had to pull off the road just to gaze at it.
When I visited five years later, I was amazed at the transformation. In that short time, it had become a tourist mecca with an explosion in the number of restaurants, attractions, houses, and, unfortunately, traffic.
Fast forward to last summer when my family stayed in a timeshare there for a week during the summer. The bustling community retains its desert charm, but in a much more sprawling configuration. Although both the population and the number of tourists has increased dramatically, the community's conscientiousness for the environment has managed to preserve the beauty of Red Rock Country.
It's truly a lovely, unique place where you feel attuned to nature. Many feel a spiritual connection, often attributed to the crossing of energy vortexes.  Whether or not you believe in the earth's energy lines, if you love nature, you will adore Sedona.
If you decide to stay there, or simply visit on your way north to the Grand Canyon, or south toward Phoenix and Scottsdale, you won't want to miss the following sights and attractions:
Los Abigados - We stayed at Los Abigados, a luxury Resort & Spa, which is also a lovely timeshare nestled in the heart of Red Rock Country. It is conveniently located near almost everything, and it is adjacent to a creek and Tlaquepaque, Sedona's Arts & Crafts Village. The resort has two restaurants (we tried the Spoke and Wheel Tavern, which had delicious pub fare), a lovely pool which is seldom super busy, a mini golf course, fitness center, and tennis courts. They also offer a variety of classes such as painting, jewelry-making, wine tasting, and more. I loved the resort's beautiful Southwestern decor, and I was particularly enamored of the beautiful sculptures, with a decidedly Southwestern flair, scattered across the property.
Pink Jeep Tours - To investigate the ruins of Native American dwellings, the cliff paintings, and Montezuma National Monument, we turned to the Pink Jeep Tours for our adventure.  My husband, daughters, and I piled into a pink jeep and bounced our way along dustry, unpaved roads to the cliff dwellings with one of the tour guides. Our guide was not only knowledgeable about the ruins, but he had grown up with a Native healer and storyteller as a family friend, so we were treated to some amazing information about the plants, the cliff dwellings, and the stories behind the paintings. Although these tours are not inexpensive (you may be able to find discounts in some of the tour books), they are worth every penny because of the knowledge of the tour guides and the fact that they take you to places you will not likely see on your own.  Be sure to take water and sunscreen, wear comforable shoes, and a hat might not be a bad idea because that Arizona sun can be wicked!
L'Auberge de Sedona - We went to L'Auberge, a creekside inn, for Sunday brunch. While I cannot confirm my perception that the accommodations were as luxurious as they were beautiful, the brunch was divine.  Dozens of choices scattered the buffets, all fresh and delicious, and a jovial chef from the restaurant prepared custom-ordered omelets. I highly recommend the food, and if you're thinking about staying there, be sure to check out some of the packages and exclusive offers. 
Chapel of the Holy Cross - As you drive north toward Sedona, the Chapel of the Holy Cross Chapel is on the right. One of the oldest landmarks in Sedona, The Chapel of the Holy Cross was a gift from Marguerite Brunswig Staude, a sculptress, philanthropist, and devout Catholic. She managed to get rights to build the church on land originally owned by the National Forest Service through the assistance of Senator Barry Goldwater. Situated at the crest of a hill, amid energy vortexes and surrounded by stunning red rock formations, the chapel took 18 months to build for a mere $300,000 which was, even in 1955, a modest sum. The chapel is one of Sedona's most iconic symbols of architecture that integrates into the majesty of the land.
Tlaquepaque Arts & Crafts Village - I love to shop, so one of my favorite places in Sedona is Tlaqupaque. Here, you will find charming restaurants (Check out Oak Creek Brewery & Grill), a wide variety of specialty, jewelry, and clothing shops, and fascinating art galleries by some of Sedona's most talented artists. You can often happen upon a performance of music or dance taking place on the plaza, which is always fun. (I never did figure out what a sculpture of Mark Twain was doing in Tlaquepaque, but it made for a fun photo op for my daughters!)
Mainstreet Sedona - Sedona's main drag is chock full of a wide variety of galleries, restaurants, and shops that include Native American and ethnic, New Age and metaphysical, jewelry and gems, home decor, apparel, arts and crafts and some rather touristy little boutiques. It's a fun place to visit, but be sure to avoid heading downtown during rush hour, because the traffic is miserable.
The real star of Sedona is the landscape. The tourism bureau labels it a "geological wonderland," and indeed, it is. If you enjoy hiking, be sure to set aside plenty of time and some comfortable shoes for this pursuit. If you're looking for options, check out L'Auberg de Sedona's blogpost "The 10 Best Sedona Hikes."  Another not-to-be-missed feature is sunset over Sedona. We drove up to Airport Mesa on our last night there and watched in awe as the sun sank over the hills. Honestly, the images in the video do it no justice. It is both spectacular and awe-inspiring!  For other options of where to see the sunset, check out this post "Best Sunrise/Sunset Spots in Sedona." It was an incredibly memorable way to spend our final evening there.
Would I go back for a fourth visit? In a minute!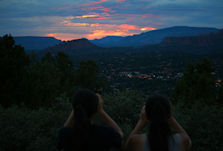 P.S.for Parents: Although my daughters were 17 when we did this trip, and they enjoyed every minute of it, this would also be a great trip for younger children, as long as they enjoy nature, hiking, photography, and/or the outdoors. 
P.P.S. If you wish to visit Flagstaff or the Grand Canyon, Sedona is easy striking distance from both.  Mid-week, we drove to the Grand Canyon in the morning, stayed the day, saw the sunset, then drove back at night. 
---
Carol White Llewellyn is Editor of BeyondTheNest.com, a travel writer, and the host and producer of Conversations with Creatives, a cable and online TV program that explores the arts and celebrates artists and their work. She is also the producer, videographer and editor of the CommuniVision Studio Three Minute Travel Series.