Visiting Moab, Utah

(Click here to get back to more Rocky Mountain US vacation review links.)
Reviews of places and activities around Moab, Utah
As we drove into Moab, my husband announced: "I think we're going to have to find jobs and move here." I understood immediately why he'd said this: The gorgeous landscape we'd been observing for miles had finally landed us into a downtown full of cute and funky shops and restaurants. It was particularly surprising, because Moab wasn't even intended to be the main event of our vacation; it was conveniently located between other attractions, and we thought we'd give it a try for a couple of days. Knowing what I do now, we'd spend a full week vacation in Moab in a heartbeat. In fact, "we need to move here" became a constant refrain.
My husband clearly wasn't the only visitor to fall in love with the place. Moab is packed with people from around the country who've been drawn to Moab because they're passionate about being active in an awesomely beautiful landscape. Moab is graced with Arches National Park just a few minutes away and Canyonlands National Park within an hour, but the amazing rocky red landscape and the Colorado River continue beyond the parks' borders, making Moab beautiful, both in the parks and out.
Things To Do
Visitors come to Moab from all over to enjoy climbing, mountain biking, canyoneering, boating and rafting, canyoneering, Jeeping, hiking, and driving along the scenic byways. Ask your guide, your waiter, or a shopkeeper, and you're likely to find an outdoor enthusiast who's eager to share his or her favorite spots to explore and also his or her favorite places to recover from all of the outdoor activity. Here are a few activities we loved:
Morning Glory Canyoneering with Red River Adventures: Click here for my KidsOutAndAbout review
2-Day Family River Rafting with Sheri Griffith Expeditions: Click here for my KidsOutAndAbout review
Entrajo Canyon Canyoneering with Moab Desert Adventures: Click here for my KidsOutAndAbout review
Canyonlands National Park at Sunset: Click here for my KidsOutAndAbout review.
Fiery Furnace Tour at Arches National Park with a Park Ranger: Click here for my KidsOutAndAbout review.
My family didn't have enough time to do everything we would have liked in Moab. Next time, we'll plan for more time in the area: We'd love to try a Jetboat tour with Canyonlands by Night and Day and a nighttime outing with Moab RedRock Astronomy--the stars are beautiful out there!
For more ideas for activities, check out the Discover Moab's listings.
---
Places To Stay in Moab
If you're thinking of staying in Moab for more than a night or two, I highly recommend the Moab Cottage, where we stayed for two nights. This was real home-away-from-home for us: Read my review here.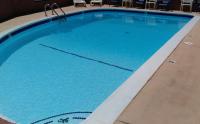 We also spent one night at the Inca Inn, a competitively-priced motel right on Main Street in Moab. We thought that the Inca Inn was terrific: super-clean, with friendly little notes all around the place and a little pool that's just enough to cool off after a big hike. But, honestly? My kids' favorite feature was that the Inca Inn is practically next door to the amazing and fascinating Moab Rock Shop, a Moab institution since Lin Ottinger founded it in 1960. Part museum, part store, this place is jam-packed with rocks, minerals, dinosaur bones, and fossils that are likely to turn visitors into budding geologists and archeologists.
Of course, there are tons of other options as well, and many of them are available right downtown, within easy walking distance of shops and restaurants.
---
Where To Eat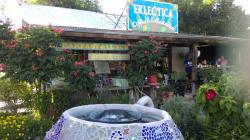 Chatting up guides, we ended up with a long list of restaurants to try, and not quite enough opportunities to squeeze them all in! We enjoyed a super-quick breakfast at Sweet Cravings, and we loved the great atmosphere and delicious selection at Eklecticafe. We only wish we'd known what locals told us later: Everything at the Eklecticafe can come in a half order! That's great, because the portions are huge, and they're so delicious that it's heartbreaking not to finish them.
For dinners, we really enjoyed the fun bicycle-themed decor and the comfort food at The Spoke on Center. A guide we met raved about their custom macaroni and cheese, and we loved it, but after a tough day of canyoneering we also managed to tuck away salty-delicious burgers and some jalapeno-laced Macaroni Poppers.
Finally, I think our favorite restaurant meal might have been at the unassuming little Paradox Pizza, which offers take-out, delivery, and casual dining space for their tremendously delicious thin-crust pizza. The entire family loved sharing a big salad there, too. Wait, the kids ate salad? Come to think of it, we might have been starving from all of our activities, too. But it really was the kind of pizza you think about later, as in "Wow, that was good pizza" and "Another one of those pizzas would be good right now. . . ." Too bad we live so far away! 
I think everyone's favorite lunch might have been on our rafting trip with Sheri Griffith Expeditions. We learned later that Sheri Griffiths has a local reputation for providing the best spread of the rafting companies, and I wouldn't doubt it.
---
General Tips
Don't rely on the advertising copy only for some of these activities. If you do your research strictly online, the Fiery Furnace Tour hike at Arches National Park sounds almost too scary to do, while Entrajo Canyon Canyoneering with Moab Desert Adventures is described as moderate. My family ('tween girls, my husband, and I) found both activities fun, but Entrajo was clearly more challenging even though it didn't seem so online. In hindsight, this makes sense: Park rangers frequently deal with members of the public who aren't clever enough to bring water on a summertime hike, while Moab Desert Adventures guides novices as well as experts. If you're not sure about what excursion will work for you and yours, check travel reviews like mine and others, or call and talk to someone for more specfiic information.
If you are traveling with very young children and need gear for your stay, Adventure Tykes rents out outdoor equipment and toys. Check the site, too, for more little-kid-friendly ideas.
Stamp your feet! Seriously, I mean it. Red Moab dust will cling to your sneakers and hiking boots. Outside, the dust will make hiking and climbing slippery, and inside, it will just make a mess. Get kids into the habit of stamping their feet before tackling a hill or stepping into a hotel room.
Step with care. As you explore Moab, you'll learn about Biological Soil Crust, also called Cryptobiotic Soil. This blackish soil is alive and extraordinarily delicate: One poorly-placed step can destroy centuries of growth. Do as the locals do and stay on the path or on "slick rock" to help preserve the desert ecology.
Wondering about that image of a guy bending over and playing a flute that you see everywhere? It's Kokopelli.
In my family's Wild West vacation, we journeyed through four different states and visited numerous parks and scenic byways over more than two weeks. But ever since returning home, I'm starting every vacation conversation with: "Have you ever been to Moab? You have to go!"
---
© 2015 Katie Beltramo. Katie, a mom of two, is the Albany-area editor of KidsOutAndAbout.com. She also blogs at CapitalDistrictFun.com.
Find more information about Moab at the Discover Moab tourism site.