Visit the National Zoo in Washington, DC
by Katie Beltramo
The National Zoo is one of our favorite destinations in Washington, DC. Like other Smithsonian institutions, it is free. In fact, it's possible to make your entire trip completely free—or at least very cheap—if you choose to take the Metro (parking is $15 for 3 hours, $20 for more than 3 hours) and bring your own food (yes, you're allowed, as long as you don't try to barbecue).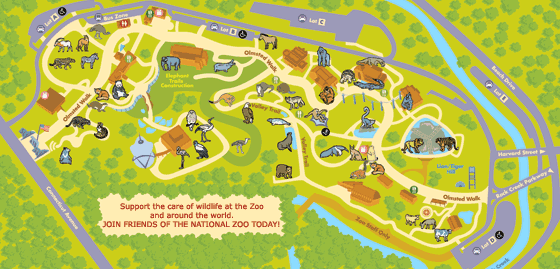 The animals are sure to delight all ages, although the zoo sprawls over a hilly 163 acres, so baby carriers and strollers are definitely in order. You might even bring along a wagon for those kids who are too big or too dignified for strollers.
Food at the National Zoo
There's a wide variety of food available, and most of it is pretty good.  We've eaten at the Panda Plaza Grill, which includes fast-food offerings like burgers, fries, and chicken fingers as well as healthier options like salads, carrots, and yogurt. It was surprisingly tasty. A more recent addition is the Panda Café, which has personal pizzas, sub sandwiches, salads, and some fairly sophisticated panini sandwiches as well. Everyone was happy with their choices, and we particularly appreciated the friendly staffer who made a special sandwich to order for my finicky 6-year-old.
Arrive at the Zoo early
If you're visiting in the summertime, your best bet is to arrive as early as possible to beat the crowds. Luckily, the grounds are always open, so if you have a child who wakes you up at the crack of dawn, anyway, there's no need to wait. The Visitors Center and Panda Plaza Grill open at 9 am, and all of the indoor exhibits and concessions are open by 10 am. An early arrival will ensure that you find parking (lots often fill up by 10 or 10:30 am). Our favorite parking lot is D, because it's right next to the Kids' Farm and Pizza Playground, and because it's on the bottom of the hill, so we can trot uphill enthusiastically at the beginning and have a downhill walk at the end of the visit when everyone is toast.
The best reason to arrive early is that the animals are most active in the morning. For a previous trip, our visit was close to midday, and many animals were resting somewhere out of sight. In fact, at the time I joked that the problem was their high-quality and authentic habitats, because at other zoos the poor animals are cramped into small cages with nowhere to hide.
Experiences at the National Zoo
Our most recent visit, which began promptly at 9 am, included so many wonderful experiences that my husband and I agreed it was our Best Zoo Trip Ever. And we've been to plenty of zoos. It was as if the animals were conspiring to entertain us as much as possible.
In the lion area, the father snoozed while his lion cubs played with a keg until it fell into a moat, out of reach. Lion Dad saw their predicament and seemed to sigh at his kids' antics, lumbering down a level and swatting at the keg as well. As he tried to help the kids up, they climbed on his back, eager to play.
The orangutans obliging crossed the O-line, and one even relieved itself from on high to the horrified delight of onlookers everywhere. That's why the zoo helpers ask you to move away when the orangutans are coming, people, so step lively!
Meanwhile, in the panda habitat, the pregnant mama was getting much-needed rest in privacy. The male, who had been sleeping when I arrived, apparently heard us come in. He woke up, stretched a bit, and began nibbling on some bamboo while the paparazzi went wild.
Planning your National Zoo Trip
If you plan to visit the National Zoo, be sure to take advantage of the terrific online resources to get your kids excited for the trip. There are numerous webcams of the different animals so that your kids can get to know them ahead of time. That way, when you arrive in person they'll feel like they're meeting celebrities. The web site also provides activity sheets that you can bring along on your visit to keep everyone engaged and learning.
---
---

© 2011, Katie Beltramo
Katie Beltramo, a mother of two, is Editor of Kids Out and About-Albany and blogs at Capital District Fun.