Texas de Brazil: A Restaurant for Kids Too!
By Kerry Smith, KidsOutAndAbout Salt Lake City Editor
Have you ever eaten at a Brazilian-American steakhouse or churrascaria? If you haven't, picture a restaurant where culture and savory meat dishes come together, complemented by a salad bar that just won't quit. Texas de Brazil offers upscale Brazilian cuisine, served with generous Texas spirit, at many locations nationwide, including Salt Lake City at City Creek Center, where my family and I recently visited.
My husband and I love to visit local churrascarias. The food reminds us of when we lived in Brazil and Paraguay many years ago. This time, however, we quickly realized that Texas de Brazil is a more upscale dining experience than what we've enjoyed before.
Lights are dim, candles are lit, and decor is elegant. Our boys instantly saw why Mom and Dad said they had to be on their best behavior. And it was fun! We loved having a fancy night out for a change and wanted to experience it all. So we ordered the full dinner, which includes all the meats and salad bar. You can order just the salad bar, but the meat is what really makes it Brazilian.
Salad Bar
We noticed right away that some of the dishes are beyond traditional South American fare: lobster bisque, salmon, fresh mozzarella and parmesan cheeses, and sushi. Then we spotted ensalada rusa (potato salad), fejoida (Brazilian stew with beans and beef), rice, hearts of palm, and several other familiar cultural dishes. Altogether, the salad bar features 50-60 fresh seasonal items. All are gourmet; all are prime.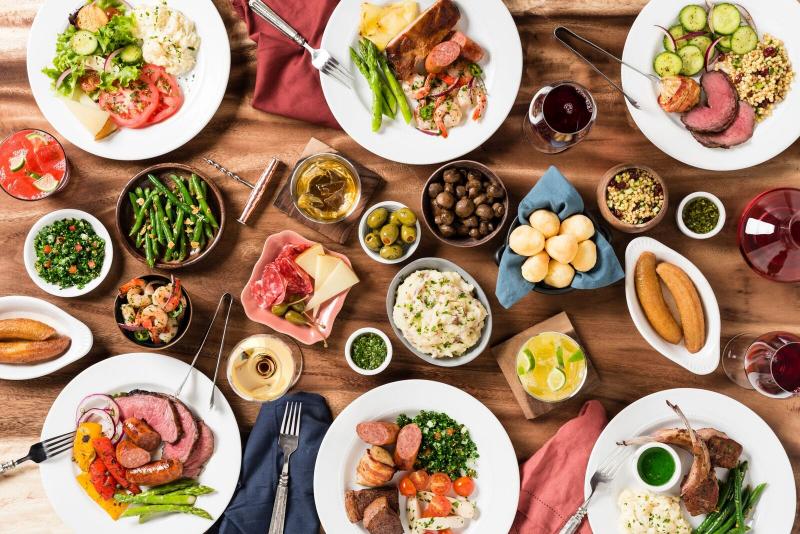 Side Dishes
Each table is served a side of garlic mashed potatoes, sweet fried bananas, Brazilian cheese bread, and house specialty sauces. We oohed and aahed over every one. Our especially enjoyed eating the bread and fried bananas.
Meat
We are meat lovers and self-proclaimed meat snobs. My husband is very accomplished at the grill, and we rarely discover meat cooked elsewhere that is as juicy and flavorful as his. But Texas de Brazil does it! We enjoyed sampling lamb dishes, pork loin, ribs, filet mignon, sausages, and much more. Just look at the menu options here, and you'll see why we had no excuse to go away hungry.
If you've never been to a churrascaria, each table or place setting has a card with green on one side and red on the other. You can guess which side goes up to "bring on the meat." Servers come with juicy, fall-apart options fresh from the rotisserie and slice portions right onto your plate. You just pick and choose which meats you'd like to try. There are about 15 options which pass by your table on a rotation basis. Not sure what you might like? Try a tiny bite of each the first round, and save room for bigger slices the next go-round. When you're beyond stuffed, turn your card over to the red side.
Drinks
We enjoyed the strawberry, papaya, and coconut-lime Brazilian lemonades. We also had Guarana, a soda my hubby and I drank often in SA. Texas de Brazil also has many other non-alcoholic beverages. My youngest son would want you to know that he was super impressed with his Sprite, served in a fancy aluminum bottle. (Anyway, it looked fancy to him and was the first thing he mentioned when we later asked him about his favorite part of the whole meal.)
You can also enjoy a wide array of wine and alcoholic beverages or an after-dinner espresso.
Desserts
You'll be so full after your delicious meal that you might not think you have room for dessert. But you should at least split one. With almost a dozen desserts to choose from, how can you go wrong? There are Brazilian favorites, carrot cake, chocolate mousse cake, key lime pie, and so many more. I had the pecan pie. We also shared heavenly bites of the creme brulee, flan, and Brazilian papaya cream. Trust me. Don't skip dessert. It's the perfect ending to a perfect meal.
Great Dining Experience for Kids
Aside from serving wonderful dishes adults love, Texas de Brazil offers an inexpensive opportunity for kids to try new, high-quality foods. Children 2 and under are free. Meals for children ages 3 to 5 cost $5, and those for children ages 6 to 12 are half the price of adult dinner or salad bar options ($42.99 and $24.99). I was surprised when my oldest son, a picky eater, tried the sushi and loved it. I never would have guessed. He was surprised too. Both of my sons enjoyed trying the variety of gourmet cheeses offered. They also loved being told that they didn't have to eat everything on their plates. They could try a bite of anything they wanted to sample without obligation to finish it. As a result, they explored a lot more than they normally would have in trying new foods.
No Time to Dine In?
So sad! Fortunately, Texas de Brazil offers a takeout menu. You'll miss the ambiance, but all the great gourmet flavors can go home with you. We highly recommend the Lobster Bisque. It won the 2017 Best Cream Soup award at the 30th Annual Art & Soup Awards. Dunk some Brazilian cheese rolls in the bisque, and you'll discover a new addiction. You're welcome.
Tips to Know before You Go
Make reservations. There's nothing worse than standing in long lines with hungry kids. Texas de Brazil takes reservations, and you can request a highchair or booster seat as needed.
Casual attire is okay. The City Creek Center location in Salt Lake is a perfect stop if you're out shopping. You don't have to be in fancy clothes to eat here. We were in nice casual, but super casual would have been fine too. Dress however you feel most comfortable.
Consider this a special outing. You can certainly drop in while shopping. But you might want to make this a special dining occasion for your children. So many times we eat on the run. Rarely do our kids experience a nice table setting and gourmet food. Not many upscale restaurants are great places for kids either. Texas de Brazil is. Consider prepping your kids ahead of time about table manners and what to expect when eating by candlelight. Just talking about it will help them to realize how special this experience is for your family.
Encourage your kids to try new foods. This is the perfect opportunity for them to take a small sample of anything they even think they might want to try. They can smell it, lick it, take a tiny bite. BUT . . .  they don't have to keep eating it if they don't want to. It's no risk! They'll love the option, and you might be surprised at what new foods they discover.
Come super hungry and don't be rushed. This is an all-you-can-eat buffet. If your kids aren't really hungry, maybe save this outing for another time. Also, don't schedule other activities where you have to be elsewhere at a certain time. Texas de Brazil is the experience. Take your time. Savor every bite.
Kerry Smith and her husband, Cole, are the parents of two sons, ages 15 and 4. Kerry is a former editor for the Ensign magazine and shares fun ideas for reading, writing, and enjoying life at mrsladywordsmith.com.