Review of World Awareness Children's Museum in Glens Falls
by Katie Beltramo
Go! where children discover the world crams a wide world into a small space. The interactive exhibition space of the  World Awareness Children's Museum, located in Glens Falls, offers plenty of hands-on fun and learning for kids. It is open Wednesday to Saturday from 10 am to 4 pm and Sunday from noon to 4 pm, and admission is $5 per person, with kids under 3 free.
Go! includes a variety of thematic play spaces that are all anchored by works of art by children from around the world. For example, a piece called "Market Scene" by a 14-year-old Nigerian girl, serves as the backdrop of a market area. Here, kids can pretend they are shopping for chickens and vegetables, string beads to mimic the necklaces on display, or use African patterned fabric to drape themselves for dress-up or inspire their own fabric design.
Another favorite section for my daughters was a Traditional Japanese Room. Outside, children can choose a kimono, then remove shoes before entering to sit at a low table and serve each other tea and (plastic) sushi.
Other activities include a dragon boat that visitors can climb into to row or drum, plenty of clothes to try on and musical instruments to play, a collection of ornate puppets and space to act out a traditional story, and an art room with ideas and supplies for crafting.
There's plenty of assistance to orient visitors. Maps demonstrate where different activities and cultures are located, and Go Guides provide information and thinking questions for younger and older visitors
The exhibits have enough depth that they can appeal to children at different levels. In a section on maps and money, for example, younger children can make rubbings of different coins with crayons, while older children can try to match different coins to their location on a giant map.
Go! includes a small gift area with a varied assortment of items including artisan-made jewelry, small toys, exotic food treats, and Putumayo products. They also sell copies of the children's art on display.
Along with the exhibitions, Go! offers craft programs, a program for homeschoolers on Fridays, a summer language series, and more.
Siam Thai Sushi
By the end of our visit to Go! where children discover the world, the girls and I were starving, and we followed a staff member's suggestion to try nearby Siam Thai Sushi. This was an easy sell for my kids, who are huge fans of Thai food. But as it turns out, it was the perfect extension of our visit. We walked in and I laughed aloud to see a map and pins with a request for visitors to mark their homes. We were too far south, but I appreciated the reinforcement to our map skills on a smaller scale after we'd been scanning the globe. A friendly server dressed in kimono greeted us and led us past Thai art and under languid fans to our table.
We ordered some of our "usuals" at a Thai food restaurant (Chicken Satay, Fresh Rolls, Massamun Curry, and Siam Fried Rice) , but as we waited for our food to arrive, I realized that I was squandering an opportunity. Only an hour earlier my younger daughter had wished that her plastic sushi was real, and a man was quietly preparing food at the empty sushi bar. The girls and I watched him, and he suggested that they try a California roll. Frankly, I wasn't optimistic, but one does not argue when young children are eager to embark on a culinary adventure.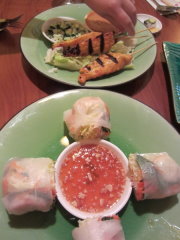 There were no sushi converts at lunch, but by that time the yummy Chicken Satay, accompanied by what my 9-year-old called "The Best Peanut Sauce Ever" had arrived.  I think that the girls--and probably most kids--would have enjoyed the Baby Egg Rolls more that the Fresh Rolls that we ordered.  The food arrived fairly quickly, but table service, like delivering small plates and refilling our water glasses, was almost comically slow. We'd almost finished the appetizers by the time we received plates, but this was partly because the girls become raging carnivores in the presence of delicious chicken-on-a-stick, so our spirits were too high to become annoyed. The main dishes were both hits. The curry, which we'd ordered with chicken, was mild and decadently creamy, and the fried rice, accompanied by tender beef, was delicious, with those vegetables that children wish to avoid, like onions, cut conveniently large for easy sorting on the plate.
The great food, friendly sushi chef, and decor made it the Siam Thai Sushi a perfect add-on to our museum outing.
---
© 2012 Katie Beltramo.
Katie Beltramo, a mom of two, is editor of Kids Out and About--Albany. She also blogs at Capital District Fun.
---