Review of "The Wonder Room" in Ballston Lake, NY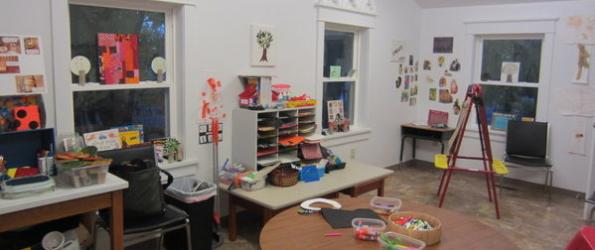 The Wonder Room is an indoor-outdoor play space in Ballston Lake that offers both drop-in playtime and registered drop-off learning programs for children, meet-ups and hands-on programs for grown-ups. Drop-in play is available Mondays-Wednesdays, Fridays, and one Saturday per month during the cold-weather months. Admission for drop-in playtime is $5 per child over 18 months; for adults, members, and children younger than 18 months, admission is free.
The Wonder Room includes several cheerful light-filled rooms that are jam-packed with toys, books, and craft materials to tempt children into playful exploration and creativity. Visitors enter a space with tables and work stations equipped with a rotating smorgasbord of special activities and manipulatives. On a typical day, kids might discover clay, dried noodles, puffs of cotton, linking toys, or play-dough, while a Messy Monday might include something extra messy, like colored corn starch goo (and yes, they have aprons if you'd like to use them).
Two more rooms offer blocks, toys, and books that mostly follow themes that change throughout the year. At our visit, we saw items tied to the woods and camping theme that had prevailed for much of autumn, while vehicles were already moving in as part of the new theme, transportation. There is plenty to do all over The Wonder Room, and it's set out in an appealing way. Set-ups are designed to inspire imaginative play, like a pretend campfire set up next to a tree-patterned curtain that blocks off an alcove which, I was informed, is "the forest."
The largest indoor space is the art room (see picture at top), with tons of materials as well as visual inspiration in the form of completed artworks and optical illusion displays on the walls. While art classes and special crafty programs are available, the shelves are open to everyone who drops in, and the sheer variety is likely to tempt even those children who are not such artists that they jump in every time you haul out a paint set.
Outside, there's a fenced-in yard that contains a garden and a long sensory table as well as changing attractions rather than a collection of fun-but-static playground equipment.
Altogether, the space is welcoming and relaxed. With plenty of windows and high-ceilings, The Wonder Room is a terrific antidote to cabin fever, but it's also small enough that you can bring multiple children and keep an eye on them fairly well even if they're interested in items located in completely separate rooms (as, inevitably, they always seem to be). Along with all of the fun stuff for kids, there's a wealth of information for parents on some of our favorite topics: our kids, how they learn and develop, and what we can do to help them along. But just like the counting games and books, these are available but not pressed upon visitors, so you can certainly choose to bring along a trashy magazine or a mama friend to entertain you instead. They've also got fun self-published pieces, like a book about making apple cider and a scavenger hunt book with photos from the nearby Kids Creekside Village playground.
One of my favorite things about The Wonder Room is its Toy Lending Center, and it's a reason why if you should absolutely check this place out and consider a Family Membership if this is close enough that you'd consider visiting regularly. They've got a huge stockpile of book collections as well as bins of toys and games that are tucked away from the main play space but easily accessible to be borrowed for free by members. Members just browse through books of photographs to see what's available to borrow, then request it by number. I love that! A family membership costs $120 per year and includes free drop-play for 1 to 3 children, reduced fees for other programs, and access to a treasure trove of stuff your kids will love until they're tired of it, when you will love getting rid of it and exchanging it for something else. You can find more information here. Right now there's a special: $10 off a family membership if you purchase it by November 25th. Sounds like a great choice to put your holiday wish list.
There is no food for sale, but light, nut-free snacking is permitted on the bench next to the entrance and outside when the weather cooperates. We stopped at nearby Fo'Castle Farm Country Store for some cider donuts after our visit. There's a changing table and a stool and low-hanging paper towels to off some independence for younger "big kids." Many of the play materials are geared to the 3-, 4-, and 5-year-olds, but babies and toddlers will love visiting, too, as long as you keep an eye out for small pieces.
As the weather turns cold, it can feel challenging to get out and about, especially when you have very little kids or multiple kids to please. The Wonder Room offers up a great destination, but more than that, you can't help but feel that you're in good hands here. Chris Stack, the Owner and Education Director, and Lauren Cohen, the Creative Director, are both passionate about creative, playful learning, and they've mindfully put together an  environment that will help kids grow while parents can relax enough to play, too.
---
The Wonder Room is located at 896 Saratoga Road (Route 50) in Ballston Lake, which is just north of where Rte. 146A meets Route 50.
---
© 2013, Katie Beltramo. Katie is the editor of KidsOutAndAbout.com for the Capital District and also blogs at CapitalDistrictFun.com.