Review of Ski Butternut in Great Barrington, MA
by Katie Beltramo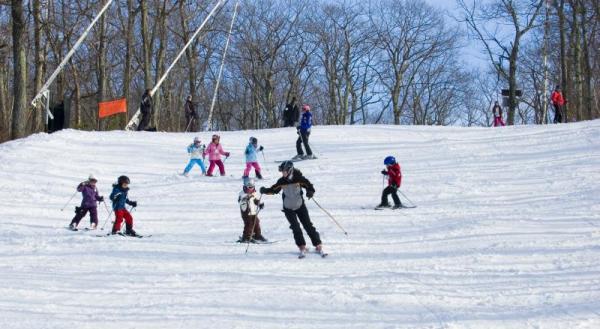 If you've conquered your local beginner hill and are looking to expand your family's horizons, or if you'd like to get the kids started skiing or snowboarding with a minimal investment of drive time and money, then Ski Butternut is an excellent snow resort for your family. 
Our family spent a gorgeous spring day out on the slopes, where they're expecting to continue skiing through March. Folks at Ski Butternut credit their excellent snowmaking, which is really expansive for a hill with 22 trails, with allowing them to start early and continue late into the season each year. Their location in the Berkshires (Great Barrington, MA) means that drive times from the New York Metro area are significantly quicker than the bigger Vermont resorts, and there's plenty to do beyond the slopes as well.
The Slopes
Ski Butternut offers 22 trails, with 60% labeled as intermediate and an even split between beginner and expert slopes for the rest. If you are an experienced skier, you're likely to consider even the black diamonds relatively easy, although there is plenty of fun and variety for a terrific day of skiing. The most challenging slopes are the fierce-looking mogul trails, but even these offer a nicely-groomed sideline to serve as an escape for anyone who tries to tackle the moguls and reconsiders shortly thereafter (which I, for one, appreciate!).
The excellent snow conditions contributed to making this a low-stress and fun day of skiing. Our family's favorite trails wer Dipsy, Fiddler, and Lucifer's Leap. Since we've all just watched the Olympics, everyone also enjoyed trying out the race course: on the Friday that we visited, the gates and timer were available for casual skiers, which led to fun competitions.
We parents also appreciated that all of the slopes lead to the main area, so even if family members got separated (like, theoretically, if a 9-year-old consistently outpaces her mother), everyone meets at the bottom, and you really can't get lose each other too badly. The atmosphere at Ski Butternut is friendly and family-oriented, so it's easy to feel comfortable quickly: great for a tentative new skier or for families where the kids would like a bit more independence through the day.
We experienced very few lines at the lifts, although Ski Butternut doesn't feature any of the higher-speed lifts that you'll see at many larger resorts. That means that Ski Butternut choice is a fabulous choice for those warm spring days of skiing, but you're likely to get extra-chilly on a frigid day. On the other hand, temperatures are not likely to plummet to the same depths as you'd find if you chose to drive farther north, anyway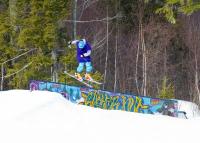 .
In addition to the ski slopes, there's a separate freestyle terrain park for those skiers and boarders who want to go for the tricks--parents will appreciate that they're strict enough about rules that anyone who wants to enter the more advanced Twisted Terrain Park area must take and pass an online pass on safety. On weekends, families can try out the Tubing Center, which is $20 per 2-hour session with seven lanes to minimize waiting.
Learning to Ski or Ride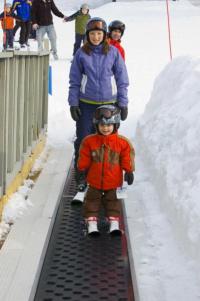 Ski Butternut offers ski and snowboard lessons every day to kids starting at age 4 as well as daycare for the not-yet-skiers ages 6 months to 8 years. We took a bit of time to check out the area set aside for the very newest skiers and snowboarders, which offered up plenty of very gradual slopes as well as four different magic carpets, the easiest possible way to get up a hill for newbies. This area is set aside from the main slopes, so you don't have to worry about folks sailing down from the top of the mountain and scaring your kiddos.
They also have an upper lodge set at the top of the beginner's lift (we loved that this was a retro wooden lift) so that the youngest kids can feel like they've arrived someplace special to get some cocoa. Of course, for those who've moved beyond the bunny slope, they also have group and private lessons that roam over the mountain, and they coach ski racing as well.
The Lodge
We ate lunch at the Clubhouse lodge, and it was such a gorgeous day that we ended up enjoying our food out on the deck. This is one of the great pleasures of spring sking: You're hanging out in 30-degree weather in March and remarking on how warm and delightful it is! Many folks at the lodge had brought their lunch to make their ski day an even better deal, but we sampled plenty of foods from the lodge, where Ski Butternut sells soups, hot and cold sandwiches, pizza, and a variety of hot and cold drinks. Most entrees ranged from $5 to $7. The biggest and best surprise of lunch for me was the excellent salad. Many places claim to offer up nutritious alternatives, but the salads are old-iceburg afterthoughts. My salad was gorgeous and delicious. And, yes: everyone else thought that their food was good, too.
Deals
Ski Butternut prides themselves on being affordable, and it's true. For 2013-2014, season passes cost $300 per adult, $250 for juniors ages 7-13, and $125 for children 6 and under. This March (2014), you can ski for free if you purchase a season pass for next year. If you're new to skiing, Ski Butternut offers a 1st Time Learner package that includes equipment rental, lift tickets, and a lesson for $75. Mid-week, ski lifts are $25 per day for adults, and you can do ski-and-stay packages for an unbelievable $45 per person per night, with a variety of great places to stay nearby.
Stop for a Snack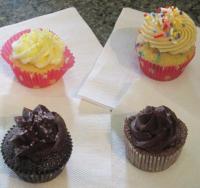 After a long day of skiing, everyone's hungry, and there are tons of excellent options to choose from. Our family spent only a few minutes wavering between cupcakes and ice cream before we decided that the only sensible choice was a little of each. We sampled several delicious mini cupcakes from Barrington Bites, where we enjoyed a delightfully warm reception, delicious and exquisite cupcakes, and a couple of extra free samples. We liked it so much that my younger daughter whispered to me, "Can we please come back here for my birthday?" From there we walked just down the street to SoCoCreamery, where I took one taste of my mint chip cone and silently cursed my husband for announcing that our family would only be having one scoop each since we'd all just stuffed our faces with cupcakes. Oh, it was delicious! Next time we Ski Butternut, I'm going to bring along a cooler so that we can take more goodies home.
---
© 2014 Katie Beltramo

Katie Beltramo, a mom of two, is editor of Kids Out and About for New York's Capital Region. She also blogs at Capital District Fun. Photos courtesy of Ski Butternut, Photographer: Matt Sawyer, and the Beltramo family.