Review of "The Secret Garden" at Capital Repertory Theatre
by Katie Beltramo
"The Secret Garden," playing at Capital Repertory Theatre through December 21, 2014, is a sophisticated re-imagining of Frances Hodgson Burnett's famous children's story that delivers incredible performances by a multi-talented company.
"The Secret Garden" is the story of Mary Lennox, a lonely child who lives in India, neglected by her parents and indulged into brattiness by servants who are under strict orders to keep the child out of sight until a cholera epidemic sweeps through, leaving her alone. Mary is sent to live at Misselthwaite Manor, a gloomy mansion presided over by her Uncle Archibald, who has spent a decade grieving the loss of his beloved wife, Lily. He has locked away Lily's beloved garden and visits their child, Colin, only when he is asleep, following the dubious orders of his physician brother. With encouragement from her chambermaid, Martha, Martha's brother, Dickon, and Ben, Lily's old and devoted gardener, Mary sets to work bringing life back to the garden, her cousin Colin, and eventually to her uncle, too.
At the performance we attended, children in particular received a warm welcome from Maggie Mancinelli-Cahill, the director of the production and Producing Artistic Director of Cap Repertory Theatre. Citing a study that states that children who don't attend theater before they graduate high school are 98% likely to never attend theater in their lifetime, Mancinelli-Cahill thanked parents and guardians for encouraging the next generation of theater patrons.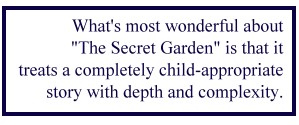 This was terrific. Let's face it--not everyone loves kids, and they're not always welcome even when they're supremely well-behaved. So arriving at a new venue, especially one in which the audience is largely adult, can be intimidating for parents. Mancinelli-Cahill set the welcoming tone, allowing nervous parents to breathe a sigh of relief and, I expect, encouraging patience among those older patrons who may be less favorably disposed to younger theatergoers.
That said, this production of "The Secret Garden" is sophisticated, and some of the elements that make it most delightful could also lead to confusion for children. Several of the actors also play musical instruments on stage. They're phenomenally talented. A few of these performances are well-integrated into the actors' characters (most notably Leenya Rideout's Martha and Elliot Lane's Dickon), but some of the larger ensemble performances, while wonderful, can confuse audience members who are trying to connect each character's presence with the plot.
The three talented actresses who play the Dreamers (Heather Farney, Erin Waterhouse, and Caroline Whelehan) are excellent, and they literally serve as part of the scenery, evoking sculptures and furnishings in the manor and garden. They enhance every scene that they're in, but a theater novice might spend the first several scenes wondering why they're there. Similarly, the setting and props are more evocative than literal. Red scarves indicate the spread of cholera deaths as the story begins in India, but children are unlikely to pick up on this unless they know the story or have a little pre-show guidance from a grownup. The garden's full bloom at the end is also more restrained than children might like.
Brittany Ross is wonderful as the alternately petulant and engaging Mary Lennox; my children loved her performance, and were particularly delighted when she drove off a would-be headmistress with a tantrum. Elliot Lane plays Dickon; he's appealing, with a great voice and amazing violin playing. But children might be disappointed that the kids in the story aren't actually played by kids. Only Mary's sickly cousin Colin, played by either Aidan Fecko or Oliver Nathanielsz depending on the show, is actually a child. With short stature and clever costuming, Ross is almost able to pass, but Lane is clearly a man playing a 12-year-old. If you have a child devoted to Burnett's story, you might want to show the photo of Mary and Dickon (with a Dreamer in the background) to set his or her expectations prior to the show.
Leenya Rideout's Martha the chambermaid, is likely to be a favorite character, and her introduction and song, "A Fine White Horse," offers the first decidedly straightforward and easy-to-follow scene in the musical. Even if she doesn't entirely succeed in charming the grouchy Mary, she's likely to reach the rest of the children in the theater. The interactions between Martha and Mary, notably "Hold On" near the end of the show, are some of the highlights of the show.
Children who have spent the last months dressing as Elsa and Anna will find a new muse in Mollie Vogt-Welch's Lily, Colin's ghostly mother and the keeper of the garden, whose angelic appearance is enhanced by a soaring and ethereal voice. A Mom favorite in our group was Cole Burden's Archibald Craven, Lily's tragically romantic, grief-stricken widower. In "Lily's Eyes," he and Fred Rose (the brother, Neville) deliver a powerhouse duet complete with soap opera plot point, while Archibald's "Race You to the Top of the Morning" is particularly poignant for parents, who can't help but sympathize while they'd like to shake him.
What's most wonderful about "The Secret Garden" is that it treats a completely child-appropriate story with depth and complexity. Often, kids' fare focuses on circus colors, catchy tunes, and boisterous sight gags to ensure that children are engaged, and while we love these shows, they're pure entertainment. Adult plays and musicals are more thought-provoking, but they often touch on adult themes of sexuality or violence or include language and other situations that really aren't acceptable for younger viewers.
"The Secret Garden" touches on universal questions about life, death, love, and loss. Its staging, symbolism, and portrayal of characters leaves plenty of room for speculation and differing interpretations. Supported by classic costumes, simple but effective props, lighting, and the occasional literal veil between the real and spiritual worlds, the musical has a fairytale quality that conjures up a child-like wonder without being childish. Scenes are staged so that some look like storybook pictures come to life. It's a terrific literary production, especially wonderful for strong readers who are beginning to move beyond reading comprehension and make inferences that explore themes, metaphors, and other aspects beyond that plot that make a story great. For us, it sparked all sorts of interesting talk on the way home, and I couldn't restrain myself from sharing some possible discussion questions. As we talked, we made new discoveries that some of us had missed, so that when the 10-year-old in our car declared, "I want to go see it again!" I agreed with her.
While we sat next to a preschooler who seemed rapt for most of the show, I would suggest that "The Secret Garden" is more appropriate for children who are familiar with the story already and are at least 8 years old, or, for those new to it, children who are at least 10 years old. This production is not the best choice for a first theater experience for a very young child, nor is it a show that young people who are particularly sensitive about death or who are afraid of ghosts (even friendly ones) will enjoy. But if you're a fan of the book, if your child is a seasoned theater-goer or a great reader, or if you're looking for something to do with the grandparents, too, I highly recommend "The Secret Garden."
---
Possible discussion questions:
When you first saw Lily, who did you think she was? Did your idea of her change when she was surrounded by the picture frame?
Colin dreams about a "round-shouldered man." Whom do you think this could be?
Do you think that the Dreamers are just objects, spirits, angels, or something else?
Do you think that the Robin is a regular bird, a magical bird, or a spirit of someone else?
Mary asks, "What happens to dead people?" What do you believe? What do you think the musical is trying to say?
Archibald tells a story to sleeping Colin about a dragon. . . what is he really talking about?
During the song "Wick," Dickon tells Mary "the strongest roses will fair thrive on being neglected." Does this remind you of any other characters? Do you think that the characters thrive because of neglect, or in spite of it?
When Lily and Colin sing together on his bed, do you think she's really there, or is she a ghost, or is she a memory?
Near the end, Martha tells Mary that she's "not much help" writing a letter. Why do you think so? Who is educated in this story, and who is wise?
Could Kevin McGuire, who plays Ben the Gardener, possibly be Santa Claus? If so, are you concerned that he's gotten too trim, and how do you think he could possibly fit these shows into his busy schedule?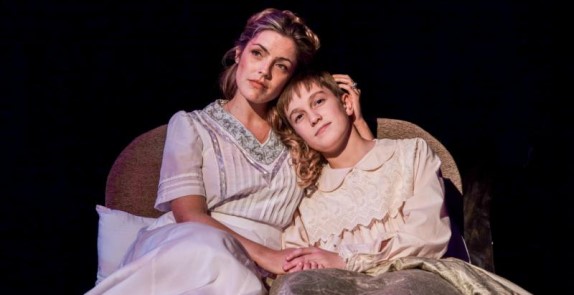 The Secret Garden runs about 2 hours, 40 minutes with one 15-minute  intermission. Tickets run $20 to $65 and are available online. A word of caution: at the parking lot directly across from the theater, patrons may purchase tickets at a machine when no attendant is present. At both the Saturday and Sunday matinees on the weekend we attended, cars were towed during the performance. To be safe, I'd advise either paying the maximum allowable price ($5 on Sunday afternoon) or park elsewhere.
© 2014, KidsOutAndAbout.com
Katie Beltramo, a mother of two, is Editor of Kids Out and About-Albany and also blogs at Capital District Fun.
Photos © Richard Lovrich provided by Capital Repertory Theatre.