Review of LEGOLAND Discovery Center Westchester in Yonkers, NY
 
by Katie Beltramo
When I mentioned that I planned to visit the LEGOLAND Discovery Center Westchester to a friend, she gasped. "I had no idea that there was anything like that so close!" For a certain segment of the population, I know it's true: they had you at LEGO®. But for those of you who haven't already yelled for the kids to go jump in their carseats, here's a little information about the indoor wonderland that is LEGOLAND Discovery Center Westchester.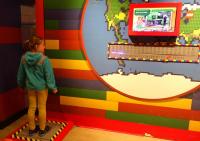 When you first enter, there's a chance to pose for family pictures, and then you're ushered into the space that's called the LEGO® Factory Tour. It's really just a brief introduction to how LEGO® bricks are made, with interactive activities so that little ones can "help" make a brick. At the end, they're rewarded with a souvenir brick. What's great about this introduction is that it creates a bit of a "controlled release" into the main play space, which helps to manage what could otherwise be a crowded free-for-all. It's one of the reasons why arriving early is an excellent strategy here, because unlike at similar venues, like amusement parks, the crowd comes in at a slow-and-steady pace. We also noticed right away that the staff is friendly and seriously  enthusiastic about sharing their love of all things LEGO®. Our favorite part of the Factory Tour space was stepping on a scale to find out our weight in LEGO® bricks.
MINILAND®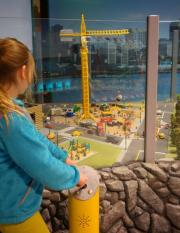 MINILAND® is an unbelievably cool cityscape made up of almost 1.5 million LEGO® bricks. There is so much to see and so much detail that you could literally look at it for hours and keep making new discoveries. As you're watching, the lights change so that you can see all the sights in the daytime or at night (the night-time cityscape at the top of this article is from MINILAND®). There are famous New York City landmarks like the Statue of Liberty, Yankee Stadium, St. Patrick's Cathedral, and much more. It's also interactive, with buttons that kids can push to play music at a concert in Central Park, for instance. My daughter loved operating the crane at a construction site and seeing herself appear in the jumbo screen as if she were someone famous appearing over Times Square.
Play Zones
The main space includes several different zones, all with different LEGO® activities. There's a spot where you can build cars and then test them out or race them against each other on different sloping test tracks, complete with stopwatch timing. Or you can build a tower and then turn a dial to see if you've engineered something that can withstand an earthquake. There's DUPLO® Village, an animal-themed space set aside for little ones so that they can have fun exploring while staying out of the big-kid fray. There's also a LEGO® Friends area where kids can step into a life-sized Heartlake City home and build with the signature pastel bricks or perform a little karaoke. In the center of the play space, there's a huge jungle gym where kids can climb, slide and jump around. This space is monitored by LEGO® staff, so kids can only enter if they've removed their shoes and are wearing socks, and they can only exit if a parent is there to retrieve them, which is reassuring if one of your kids is a wanderer. It's the kind of play space that's especially welcome in winter, when we're all missing our playground time.
LEGO® Master Builder Academy
If you've ever had your child ask you to help them finish a half-complete creation and you realize that they forgot to attach a a brick four steps ago, you will love, love love the LEGO® Master Builder Academy. Building classes are offered frequently on a first-come, first-served basis in a classroom space just off the main room. We built a space shuttle with our instructor, Derrick, who was friendly and patient. He led us through each step while also demonstrating on a big screen, making it the easiest LEGO® assembly ever. Recessed bowls in the table help kids avoid dropping and losing pieces, and an assistant builder walks around to offer one-on-one guidance to those who need it. At the end, Derrick helped to ensure parents were happy, too: first, he instructed everyone to hold up their creation and smile for the camera. Then he told us that we could bring our creations home for $5, but offered up soothing words about the wisdom of parents designed to assuage tantrums from kids whose parents wanted to keep their money, thanks. I also loved learning some new LEGO® lingo: did you know that those bumps on the bricks are called studs? Except when they're hollow, and then they're called knobs.
Rides
There are two rides at LEGOLAND Discovery Center Westchester. On the Kingdom Quest Laser Ride, every person gets a laser gun to zap skeletons and other bad guys they encounter while riding through a series of scenes. With each zap riders rack up more points, so at the end you can compare your scores with each other or with previous rides. On Merlin's Apprentice Ride, riders use pedal power to raise themselves up as they spin around Merlin's potion room. Both rides are just right for kids ages 3 to 10: they're simple, but both rides offer plenty of atmosphere and room to let imaginations soar. Throughout our visit, the wait time was minimal for each ride. There are so many other activities nearby that it's easy to keep an eye on the ride while amusing yourselves elsewhere if there is a wait.
4D Cinema
Our 15-minute movie at the LEGO® 4-D Cinema was one of the highlights of our visit. Seriously, my daughter was laughing with delight, especially when the fourth dimension effects kicked in, like wind blowing into our faces or water sprinkling over us. I had almost as much fun sneaking peeks at all of the kids reaching out to touch the LEGO® characters as they seemed to jump out right in front of them. Just keep in mind that, while setting your child in front of a movie can feel like a nice little break at home, you'll find this experience super-fun, but every bit as overstimulating as the rest of the place!
City Builder
We were so, so fortunate to get a sneak peek at a new exhibition just opening, City Builder. This is a bit like MINILAND® with its highly detailed structures, but here, kids can add on to the cityscape. There are huge bins full of LEGO® bricks, and plenty of open space, ripe for construction. Visitors can also search through LEGO City and Heartlake City for missing puppies and robbers on the loose. Again, the detail of the finished pieces is amazing, and as the kids set to work expanding on the city, they were helped along by Veronica Watson, who has one of the coolest jobs ever as a LEGO® Master Builder of LEGOLAND Discovery Center Westchester. We were excited to see a woman in this highly-coveted role, and we learned that she won the spot by competing in a series of building contests. Aspiring Master Builders were assigned to create an animal, an instrument, and a free build that reflected their own personality, all while chatting it up with a panel of grown-up and kid judges. Veronica was encouraging, creative, and kind, and she really made our visit more fun.
Food and Amenities
These LEGO® folks know what parents of little kids need: in the bathroom, there is a changing station on its own dedicated counter, and the sink beside it has a flip-down stool to let little ones reach up and wash their hands independently. There are also hand sanitizer stations set up around the play space itself.
The food area is fun, with brightly-colored tables and chairs and the cash registers encased in LEGO® bricks. The food offerings are deli-style, with sandwiches, salads, and snacks. I loved to see plenty of great, healthy choices available, including fruit, hummus, 100% juice, and milk and chocolate milk. Sandwiches come in grown-up styles like an Italian combo or a vegetarian medley of eggplant, roasted red peppers, and more, but what struck me is the awesome kid sandwiches: a nothing-but-cheese option, a nothing-but-turkey option, a nothing-but-ham option. This is such a simple way to help out parents, but it's also rare, so I appreciate it. Visitors are only permitted to bring in food for babies or children with food allergies.
The LEGO® Store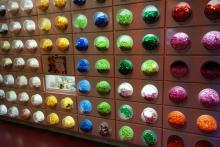 Oh, you are going to want to spend some money here. We had somehow missed the memo about the new LEGO® Elves, and once we saw the stuff, we couldn't resist. There are tons of products and all sorts of goofy things  like LEGO® watches, but the coolest options were creating your very own minifigures to purchase, as well as a gorgeous rainbow wall of colored bricks, so you could purchase a bag of exactly the colors that appeal to you. This is a great opportunity to stock up on whatever birthday or holiday is coming up next.
Details and Tips for a Visit
Purchase tickets online. It's the only way to guarantee entry, plus you'll save a few bucks. At our visit, tickets purchased online cost $19 per adult and $17.50 per child, with kids 2 and under admitted free. Click here to purchase tickets online. When you buy, you choose a 15-minute window when you'll have preferred entry beginning when they open at 10 am. Once inside, you can stay as long as you like.
When you're purchasing online, you can also buy LEGOLAND® Discovery Center Activity Packs, which give kids a special badge along with a booklet with puzzles and stamps to collect. Most parents I consulted said that there was plenty to do without the packs, so I'd only get these if you think that your child would be thrilled to wear a LEGO® badge.
Bring socks. Kids exploring the Fire Academy and Construction site areas will need to remove their shoes and wear socks, and, trust me, they'll totally want to play in the Fire Academy and Construction site areas.
Bring minifigures with you. You can trade your minifigures with members of the LEGO® Team, and it's a great way to connect with people and find that elusive minifigure you've been trying to get your hands on.
LEGOLAND Discovery Center Westchester is located in Ridge Hill shopping center, which has multiple parking lots. Park in the North Otis lot to be closest.
Arrive early to beat the rush, but keep in mind that even on a gloomy Sunday afternoon, it wasn't so busy that we felt over-crowded. If you DO plan to arrive before doors open at 10 am, there's a Starbucks a couple of doors down.
Skip MINILAND® early and come back to it later. There are so many things to do, and your children will super-excited when they arrive. Take the opportunity to do the more hands-on and potentially crowded activities that take will burn off some of their energy. Then, when they need a little break, MINILAND® offers some (relative) serenity, and they might have more attention span to notice the details that they might miss as they clamor to see it all. 
Take a class at the Master Builder Academy. This is another good break time for the overstimulated, plus you make your own souvenir. If you decide to purchase the souvenir, they'll bag it, put your child's name on it, and leave it at the gift shop. This is a good time to set a phone alarm or something so that you don't forget to claim it!
We stayed at the Hampton Inn in Yonkers, which offers a LEGOLAND Discovery Center Westchester package. They have an indoor pool, too, making it an ideal mini-vacation for families with little kids. Other local hotels offer packages as well.
We loved the high-energy vibe, the friendly team members, and the numerous options for fun and learning at LEGOLAND Discovery Center Westchester. They say that this play space is designed for kids ages 3 to 10, and they'll be the happiest visitors there. Teen and tween visitors will enjoy themselves if they are die-hard L fans, but the activities aren't designed for them. And if you're a grown-up LEGO® lover, they actually have adults-only nights, too! With a cash-bar. But even if that doesn't call out to you, grown-ups are likely to love this clean, fun playspace that gets it right, down to the last detail.
Looking for more things to do locally? Check out the related Family Fun in Westchester article.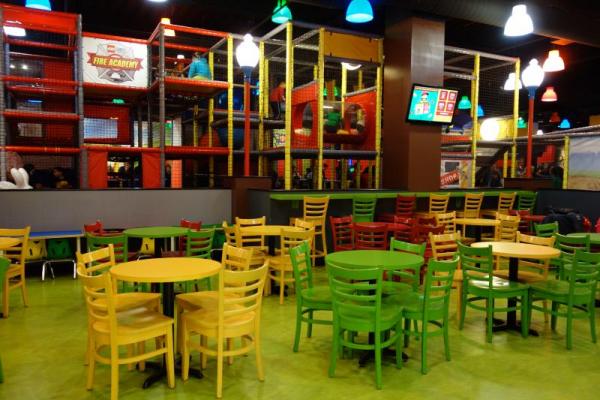 ---
© 2015, Katie Beltramo.
Katie Beltramo, a mother of two, is an editor at Kids Out and About. She also blogs at Capital District Fun.
---