Review of Lapland Lake Nordic Vacation Center
by Katie Beltramo
On multiple occasions when I mentioned our family's upcoming visit to Lapland Lake Nordic Vacation Center in the Adirondacks (Northville, NY, about 60 miles from Albany), friends who cross-country ski would literally gasp out loud, then either pronounce themselves jealous (because they'd been there) or request a full report (because it is on their vacation wish list). As people arrived on Saturday, it was clear: Lapland Lake is full of people who really, really love winter. We'd soon find out why.
What You'll Find at Lapland Lake
Just over an hour northwest of Albany, Lapland Lake offers about 50 kilometers of well-groomed cross-country skiing  and snowshoeing trails, along with cottages, a small skating pond and tubing hill, and other amenities situated lakeside in the Adirondack Forest Preserve. During the winter season, which usually runs from November through April, trails and the main lodge are open every day. Lessons and rentals from the ski shop are available every day, where veteran instructors teach all  levels of both classic and skate skiing. Folks can ski for the day, purchase a season pass, or stay overnight in a cottage.
Cross Country Skiing and Beyond
The best part of our stay at Lapland Lake was that it was so easy for us to try many different winter activities. My kids had never tried cross-country skiing, and my husband had never strapped on snowshoes. At Lapland Lake, you can cross-country ski, snowshoe, tube, and ice skate as conditions permit. Even better, you can exchange your rentals for different equipment for a portion of the same day. So if one child is frustrated with learning a new skill, you can trade in the skis for a snow tube and still enjoy active winter fun.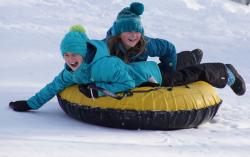 Because everything was new to us, we booked a private family lesson. Based on our previous experience as downhill skiers and ice skaters, the staff suggested that we might enjoy the faster pace of skate skiing over classic cross country (here's more information on classic vs. skate skiing). This turned out to be a great call: my husband, who had tried classic skiing once and was not an enthusiast, spent a portion of our drive home convincing me that we should probably just go ahead and buy ourselves some cross-country skis because he enjoyed skate skiing so much. I'm not kidding: This actually happened.
Snow shoeing was also a surprise hit with our family. Getting started on snow shoes is as easy as strapping them on and walking, and we appreciated their grippiness as we wandered a winding, hilly trail through the woods. The girls also loved tubing down the hill, too.
Special Amenities for Families
Families are welcome at Lapland Lake, and they offer numerous activities and amenities appropriate for children. On weekends and holidays, Lemmings Kids' Club ski lessons, for ages 5 to 11, run twice a day at the same time as adult lessons. Then, from 2:15-3:45 pm, instructors run a Reindeer Rally game session, where kids get together to play silly games while parents are free to join in, watch, or (my personal favorite) quietly ski away. Our daughter was excited to see Pat Ferri, whom we knew from her Circus Theatricks camp, helping to lead the fun, and all of the kids were having a great time frolicking on their skis, acquiring imaginary Harry Potter-inspired names, passing a ball back and forth with mini brooms, and playing goofy games with foam noodles.
Beyond the lessons, we saw plenty of kids out on the trails, ranging in age from preschoolers to college-age. There isn't child care, available, but we saw many of the youngest toted behind a parent in a pulk sled, which are available for rent. These sleds offer shelter, and are so cozy that I met one mom who was pulling a child through his nap. We also appreciated the boosters and high chairs available at the snack bar and the kids' toys set up in the upstairs portion of the cozy lodge.
When our younger daughter was getting worn out, she loved taking a stop to visit Viima, the reindeer, who is in a pen alongside one of the novice ski trails. The whole family enjoyed Little Bit, the resident of the "Finnish Line" Ski Shop and Lodge.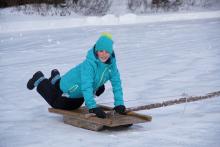 Speaking of Finnish, another kid-favorite was Napa Kiikku, a Finnish pole swing sled ride that they set up on weekday and holiday afternoons when conditions allow. Kids sit or lie on the sled that's placed on the frozen pond, then they're spun around by a helpful member of the Lapland Lake staff.
Finnish Fun
Lapland Lake's distinct Scandinavian cultural bent is another feature that makes a visit special. Overnight guests stay in "tupas," Finnish for cottage, and activities like the Napa Kiikku and kyykka are usually available, and you can rent a kick-sled for kids for a twist on their usual sledding. At Tuulen Tupa Grill, you can order the Scandinavian Platter at lunch or dinner, which offers a great opportunity to encourage your kids to try some adventurous eating. Adults will love trying the authentic Finnish sauna, available at the "Finnish Line" lodge to overnight guests. I won't lie: On Saturday night I was so exhausted from all of the activity that getting up off the couch and venturing out into the cold to visit the sauna felt like an extraordinary triumph of will, but I was so glad that I did it. It was glorious.
Accommodations
Our family stayed at Tunturi Tupa, situated at the end of a small lane of little houses. The children were immediately charmed by its rustic cottage feel: My younger daughter particularly liked how the doors blended into the wood-paneled walls; she said it felt like a life-sized playhouse. We grown-ups liked that it was immaculately clean with a kitchen that included all of the necessities. Cottages have a wood-burning fireplace that is ready to be lit when you arrive, and this heat is supplemented with electric registers that you can adjust to your comfort. The cottages have no tv, cell service is nonexistent, and wi-fi is limited to the lodge and snack bar. Go ahead and leave those devices, your laptop, and DVDs at home. Lapland Lake offers an excellent opportunity to unplug and reconnect with the family and nature. Overnight guests may also enjoy illuminated trails, snow tube hill, and skating pond from 6-9 pm, as well as one half-priced lesson per person.
Food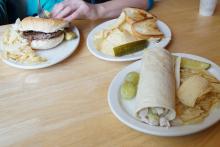 Possibly my favorite part of arriving at our tupa on Friday night was seeing that the Lapland Lake folks had stocked our fridge with a catered breakfast. You can request tupa-catered breakfasts or dinners, which is a terrific option if you have kids. We loved knowing that, while we had a kitchen available, we could also avoid using it entirely if we chose. For breakfast, our family especially enjoyed the Meat Lover's Breakfast Pizza, which was piled so hight that a single slice felt like a complete breakfast, allowing leftovers for the next day. We also liked the scones.
For the rest of our meals, we particularly loved the grilled cheese as well as the New England Clam Chowder that was a soup of the day (although, judging by how vocally heartbroken a woman was that it wasn't Potato Leek day, I get the sense that all of their soups are pretty good), and the kids loved their quesadillas, burger, and steak, while the grown-ups enjoyed Chicken Marsala and Traditional Lasagne.The only disappointment was the lodge's coffee and cocoa, which was watery.
We were also pleasantly surprised by just how marvelous the Flourless Chocolate Cake was. We are huge chocolate cooks at our house, and I've stopped ordering chocolate desserts at most restaurants because they don't measure up to our homemade favorites. But that cake was so great that I instantly wished that I hadn't said we'd share it. And in the process of checking the link for the menus (here it is), I've realized that I somehow managed to miss the hot mulled wine. Oh, the humanity! Now I know what to order when I go back.  The best part of all of the food was that none of it tasted like reheated frozen stuff off a truck, which, let's face it, is the usual fare at most winter resorts. Everything tastes homemade.
Who Should Go?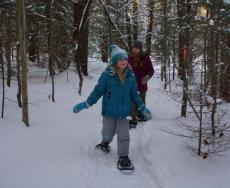 If you already enjoy cross-country skiing or snowshoeing, you need to visit Lapland Lake, even if it's just for the day. If you are an avid downhill skier who has always assumed that cross country skiing would be too slow for you, you should go and try skate skiing. If you and your family are new to snow sports, Lapland Lake's offering are a great introduction for all of you.
Lapland Lake strikes me as a great meeting place to get together with family or friends. For family, the age range is so broad that you can please everyone. If you have other friends with kids, the variety of activities and homey accommodations make this a great gathering place. During our stay, a clever group of parents had gathered in the Lapin Tupa, the biggest of the cottages, located right next to the junior tubing hill. I highly recommend organizing trips like these, because the grown-ups can divide kid-supervising duties and carve out time alone, with friends, as a couple, or with family. With plenty of grown-ups and tupa catering, you can spend most of your time having fun.
I'd also recommend Lapland Lake for families with children who are Frozen enthusiasts. Lapland Lake is a Scandinavian winter wonderland just like Elsa created, and if you have a youngster who's reluctant to try new things, the opportunity to journey through a snowy forest like Anna and Kristoff. Yes, the reindeer's name is Viima instead of Sven, but still.
Tips & What to Bring:
The biggest surprise for me was how overdressed I was on this trip. We'd packed our usual for downhill skiing, but even though temperatures probably peaked in the teens, we all ended up shedding layers. At one point, to the half-horrified delight of my daughters, I was so hot that I was literally steaming. So, rule number one is: Plan to dress in breathable layers so that you can reach a Goldilocks-level of "just right."
Even though the trails feel spacious, the lodge and snack bar both get crowded during the day. If you're staying in a tupa, you might plan to go directly to your cottage for pit stops. If you're buying family lunch at the snack bar, I'd suggest sending one adult ahead to get into line while the other adult is still shepherding children and helping to take off skis. The wait to order food was longer than it took to get our food once we'd ordered. There's additional seating downstairs.
Schedule your most taxing or difficult activity early, because by the end of the day, you're likely to be tired. Keep an eye on the time and re-assess dinner plans in the early afternoon, because if you'd like tupa catering for dinner, you'll need to place your order by 2 pm.
Saturday night dinner: dine in or out? Dining in is convenient, but there are fewer kid-friendly choices (because the food is designed to be easy to re-heat). The likeliest kid-pleasers are chicken & dumplings, lasagna, or pizza. If you head to the Tuulen Tupa Grill, you'll notice that it's both fancier (Christmas lights and water goblets) and calmer at dinnertime than it was at lunch, and there's a more typical children's menu.
You might also want to bring:
A backpack. I liked having a water bottle with me, and have you ever noticed that when kids strip off layers they hand them straight to Mom?
Sunscreen. You're likely to be outside all day, and all that snow is reflective, too.
Coffee and cocoa mix. Yes, these are available at the lodge, but it's handy to have these at "home" at your tupa.
Paper plates and napkins. Your kitchen is stocked with plates and dishwashing liquid, but if you'd like to skip doing dishes, go with paper.
If you have a mobile and curious little one, bring a safety gate to block access to the wood-burning stove, which gets hot.
A radio or other device for music. We're happy to skip tv, but a little music and wine at the end of the day are lovely.
Snow tubes or plastic sleds. Tubes are available for rent, but you're also permitted to bring your own. Same goes for other equipment, including...
Headlamps. You're permitted to rent headlamps to ski on unlighted novice slopes after dark, but even if you're not skiing, you might appreciate the headlamps on  your walk to dinner. Plus, kids love flashlights!
Binoculars/telescope/star chart. It's a gorgeous sky out there.
A large towel or robe. If you plan on using the sauna, you can use the towels from your room, but it feels so luxurious that big and fluffy would be even better. Did I mention that you can also schedule a massage in your tupa? Ahhh. . . .
Special Deals
Lapland Lake offers an awesome deal for folks interested in season passes: Kids get FREE passes with the purchase of an adult season pass. Lodging is also significantly less expensive midweek. If you're planning for February break this season, Friday the 13th to Sunday the 15th lodging will be at the holiday rate, then it's the weekend week from Monday through Thursday. Lapland Lake offers a 100% snow guarantee. For more information, click here.
Even with all of the enthusiastic advance feedback, we were surprised by how much fun we had at Lapland Lake Nordic Vacation Center. They made us cross-country skate skiing enthusiasts, and we'd definintely go again. It's truly a winter wonderland.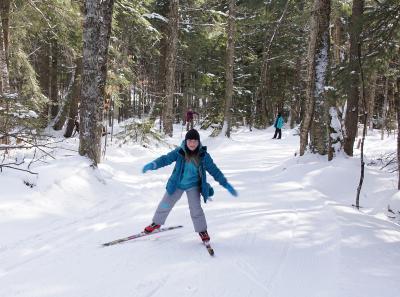 ---
Where is Lapland Lake?
Northville, NY
Distance to...
Albany: 60 miles
Boston: 225 miles
Buffalo: 280 miles
Montreal: 195 miles
NYC: 210 miles
Rochester: 215 miles
Syracuse: 115 miles
---
© 2014, Katie Beltramo.
Katie Beltramo, a mother of two, is an editor at Kids Out and About. She also blogs at Capital District Fun and contributes to All Over Albany and a variety of regional parenting publications.