Review: Is Gore Mountain Ski Area family-friendly?
Reviewed by William R Thomas
Gore Mountain is in the Adirondack Mountains, about 1.5 hours' drive from Albany. It is a huge expanse of four nested, interconnected peaks with a maximum vertical drop of 2,527 feet.  Its comfy, 8-person Northwoods Gondola serves the top of Bear Mountain, which isn't the highest point in the complex, but allows over 1700 feet of direct downward skiing without flat traverses and gives access to the whole area.
Gore is emphatically an intermediate-advanced mountain. Although as a big, full-service mountain, it offers the full range of lessons and children's services, where it really falls short is providing comfortable beginner terrain beyond its bunny slopes. To market the mountain, trails that in previous decades were labeled "intermediate" have been re-styled with the green dot of "easiest." But one who is still getting comfortable on skis or snowboard would find very limited offerings at Gore.
For example, Gore has opened a new area skiing down from Little Gore Mountain into the North Creek ski bowl below the base of the main mountain. And the new area has a long trail rated "easier"  that is just tolerable in that role. But there is no way for beginners to get back to the main mountain from that area.  I still remember a few years back physically carrying my youngest son down Sunway, the too-challenging green dot on the main mountain, as he cried and wailed that it was too steep. For an unpracticed skier as he then was, it was too steep.
However, if you are a family of intermediate or advanced skiers, Gore is fantastic. Warm up on Sunway, and stretch your legs on Quicksilver and Twister. Fun intermediate runs are found in every part of the mountain: you can't explore them all in a day. For advanced skiers speedy cruisers Chatiemac and Sagamore will get your heart pounding and thighs burning. Serious challenges abound, from Barkeater Glade (a 1300 foot vertical drop glade!) to a couple runs said to be the steepest in the East (I don't ski them!).  The snow conditions are better than Whiteface (though a bit worse than Vermont), and the snow-making coverage is good.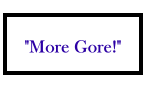 So it is my kids' favorite place to ski near Albany (now that they know how to ski). "More Gore!" they yell.
But what makes Gore extra special for me is the friendliness. Gore draws a lot of traffic from the Rome/Utica area, along with the vacationers and people from the Capital District, and the easygoing culture makes for many a pleasant chat in the Gondola no matter what age you are. Gore skiers and boarders are quick to help anyone who might be injured, too, and to track down your lost equipment if you take a spill.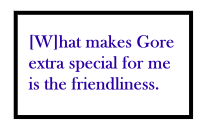 Gore is open weekends in the late Spring and Summer for mountain biking and Gondola rides. The view from the top is tremendous in any season, as the Adirondack High Peaks spread out around you.
Gore isn't cheap, but it's the best big mountain value near Albany. Kids 6 and under ski free and it participates in the New York 4th Grader's Ski and Ride passport. If you don't have a fourth grader, plan ahead and buy a PriceChopper Ski Any 3 Big Mountain Passbook ($139 for 3 tickets, or $46 each) for skiers 13 and older (7-12 year olds do better paying the listed price). Either way, it's possible average $40 or less per person (compared with the $73 high season weekend adult rate).  In February, look for "Take Your Daughter to Gore Week," followed in March by "Take Your Son to Gore Week" (kids of the chosen sex ski free). 
---
© 2011, William R. Thomas