Review of Cirque Éloize's Cirkopolis at Proctors Theatre

by Katie Beltramo
Please note: this is a review of the 2013 show. For a review of the 2014 show, click here.
Cirque Éloize's "Cirkopolis" opened at Proctors on August 7th, beginning more than two weeks of performances that are part of their new summer residency program at the theater. Cirque Éloize and Proctors will offer performances as well as Circus Experience Classes as part of their five-year commitment to each other and our community. The youngest kids' classes have sold out, but those ages 15 and up (and that means out-of-shape grown-ups, too!) can still get in on the fun this summer.
"Cirkopolis" features 12 unbelievably talented circus artists who tumble, juggle, and contort themselves in a variety of acts that are in turn beautiful, funny, and astonishing. My favorite was Angelica Bongiovonni's mesmerizing performance with the Cyr Wheel, a sort of giant hula hoop which becomes both acrobatic apparatus and dance partner. My 8-year-old most enjoyed the acts blended with comedy, like when the women swooned over strong man performances to the consternation of the less-impressive clown character. The performers use ropes, trapeze, a Chinese Pole, Teeterboard (for tumbling), German Wheel (like a hamster wheel), straps, the diabolo (that juggling-on-a-string thing) in a variety of different acts that are pretty astonishing to behold, and in between there's creative choreography and feats of amazing strength and flexibility.
The acts are tied together loosely with a plot that pits mechanization and conformity against creative and individualized spontaneity. This dichotomy is clear enough for even the youngest to understand, with an opening that starts with a grey and anonymous office setting and morphs only slightly to similarly dreary subway and factory scenes with the help of an ingenious optical-illusion-creating film background. Artists wear pops of bright colors for many performances, and they transform simple props by using them in creative ways in rebellion against their grim surroundings. However, the show remains fairly monochomatic, so viewers expecting a transformation into a candy-colored fantasyland will be disappointed. The score also occasionally detracted from the performances: both my daughter and I found the music just plain too loud at times, and a few songs included lyrics which were difficult to make out at first listen.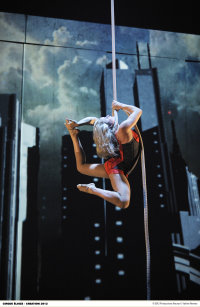 The minimal plot offers a tremendous perk for families, though. The show is completely kid-appropriate, with no bad words or even sight gags to make parents wince. It offers plenty of action and visual stimulation, and if a particular act doesn't impress your child, something new will be coming up soon.
If you're planning to bring young kids, you might ask them to watch carefully to see how the performers work together as a team. We liked noticing details like eye contact or one trapeze artist flexing her feet to create foot "handles" for her fellow performers. During one portion of the show, the entire company is juggling, and watching for tiny mistakes and how these are worked into the performance is intriguing for kids and grown-ups, too.
"Cirkopolis" runs 80 minutes without an intermission, strobe lights are used during the performance and tickets range from $20 to $65. For details, click here.
---
Katie Beltramo, a mother of two, is Editor of Kids Out and About-Albany and also blogs at Capital District Fun.