Party Games and Toys: a KidsOutAndAbout review
When you're hosting a big group, you may struggle to find an activity that keeps everyone entertained regardless of age. We've tested out some products that everyone will enjoy. And bonus: They'll keep your guests out of the kitchen so you can get the meal finished. (Is there anything more obnoxious than people standing in the kitchen when you're working?!)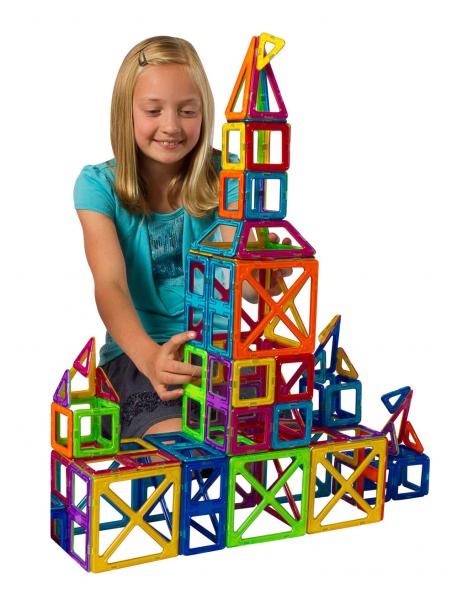 MagFormers– magformers.com
Cost: $12 - $750
Their Story: The team at MagFormers believes it is vital for children to develop through creativity and their patented, 'always attracting' magnetic technology delivers a unique constructional play experience. Chosen as a Top Holiday Toy of 2015 by Toy Insider.
Our Experience: Our staff's children range from 18 months to teenagers, and the Magformers were a hit at every age. (Several parents admitted to playing with them after the kids went to bed!) One family had a similar magnetic plank set from a different company, and preferred playing with the MagFormers. The draw was in building 3D shapes, and because the each geometric shape contains magnets that never reject, you're able to make whatever shapes you can imagine. Some kids were particularly fascinated by the instructions to build a ball; you'd be surprised how well the magnets held up even when passing it back and forth between the two of them.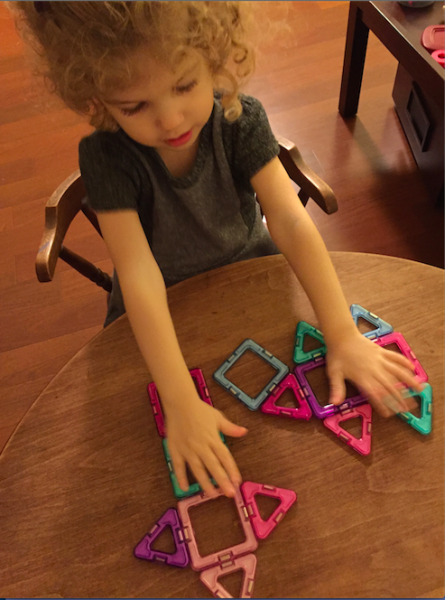 Our three-year-old tester did need a little help following the instructions but what we were most impressed by was how quickly she was able to reconstruct the Magformers into other objects. The colorful squares soon became a ladder to the "rainbow sky" (triangle-shaped Magformers). We knew Magforme
rs were ahit however, when the kids found new ways to incorporate the toys into their daily creative play. Ease of clean up is key. When playtime is over, use the magnetic power to simply stack and store. Magformer's versatility assures this toy will play with over and over again for years to come.
Options: The variety of themed sets are endless. Choose from Magnets in Motion, Animals, Vehicles, and even Educational sets. In our experience, one starter set was not quite enough to keep mulitple kids entertained. Buy more than one set if the toy is intended for more than one kid.
Blue Orange Games - blueorangegames.com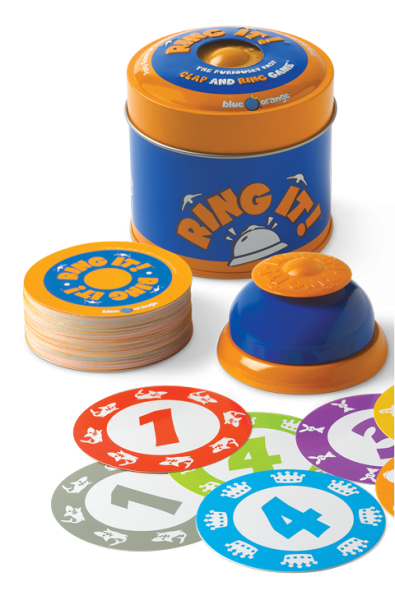 Cost: $13 - $19
Their Story: Blue Orange Games is driven to spread the timeless pleasure of connecting face to face with family and friends around a great game. They want their games to be enjoyed by the whole family for years to come, so every Blue Orange game meets the criteria of being easy to learn, skill building, and fun for all ages.
Our Experience: Ring It, Clap and ring your way to victory! Players continuously flip their cards until a combo is found. Be the first to find the combo, clap your hands and ring the bell. This game works great for a group because it takes very little explanation to get started. But we certainly wouldn't describe it as simple. Once players get the hang of the basic play, there are myriad ways to change it up and create more complexity. In the world of education, teachers call this "scaffolding" (buzz word alert!). For example, Basic Play requires gamers to find a combination in any of the cards that gets flipped over. When they see a combo, they ding they ding the bell and clap their hands. To make it more complex for older players, only ring when there is a specific type of match or add a different movement besides clapping when you find a match. This is the key to longevity when it comes to a game surviving a parent's fit of spring cleaning. This is a game that can easily be explained to new players, can be played with a large group, and can be modified when you're ready for more complex play. And totally worth mentioning, all the pieces fit in one tiny little tin, so it's perfect for bringing on a camping trip or on a playdate! 
Options
: We're a fan of all Blue Orange Games; here are a few other worth highlighting. 
We especially love the comprehensive website which offers all the info you need to pick out the perfect game: age range interest, skills tested, time necessary to play, even videos with straight-forward instructions for gameplay.
Wink: Your mission is to collect points by covertly winking at your secret partner without being detected by the other players. (Your secret partner is determined by whether or not you have the matching card he/she is looking for). Requires higher level thinking for older gameplayers, but younger kids will get a kick out of watching the wink exchange and trying to guess the partnerships.This extraordinary concept just won a Major Fun Award.

Gobblet Gobblers

: Test your memory and appetite for laughs with this easy to learn and quick game of strategy. Cartoonish wooden characters bring pizzazz to this Tic-Tac-Toe style game. Just line up three of your Gobblers in a row to win. But watch out! These Gobblers are hungry for fun…and other Gobblers. Awash in cheerful colors, this board game is made to be treasured. Gobblet Gobblers is the best first strategy game for kids to challenge their parents.