Master Checklist to Find Your Perfect Wedding or Special Event Venue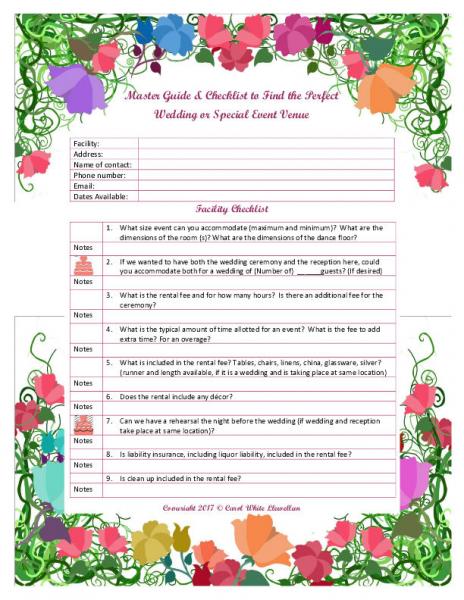 Searching for the right venue for a wedding, retirement party, gala, bar mitzvah, bat mitzvah, quinceañera, fundraiser or any important social event is exciting, but it can also be intimidating!  Each facility has its own specific rules and regulations, which makes it confusing to compare and contrast what resources are available.
 - Click to Download "A Master Guide and Checklist to Find the Perfect Wedding and Special Events Venue". This guide includes all the questions to ask when you are searching for a facility at which to hold your wedding or special event.  Developed by Carol White Llewellyn, our editor who spent 20 years as a meeting and event planner for a trade association in New York City, it was originally designed for those seeking wedding/reception facilities, but it has been updated to be used for important social events as well. This guide will help you gather consistent information to assist you in your comparisons.
While this guide may be more comprehensive than many people will need, simply ignore the questions that aren't pertinent for your event. Any questions that pertain only to a wedding or reception have a wedding cake in the margin.
Have fun exploring the venues, and good luck with your special event!
Please note: The pdf of this document is hosted on Carol's site, CommuniVisionStudio.com, so don't be disturbed if you are redirected to another site for the download.