Las Vegas with Kids: Bellagio
By June Santini
People say Las Vegas is like Disneyland for grownups. While that seems to me to be generally true--that the majority of touristy activities in Vegas are intended for those 21 and older--kids and families can also have a good time together in Vegas.
Bellagio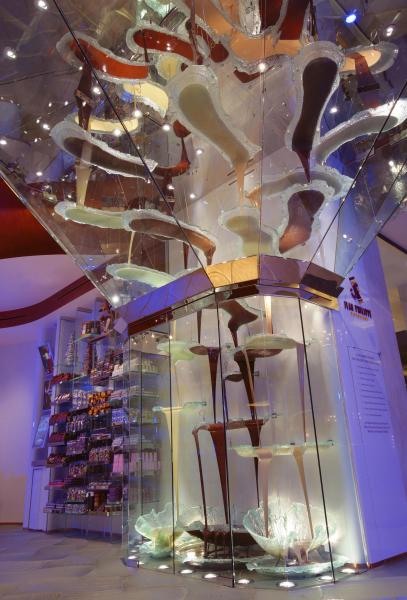 Bellagio is a luxury hotel and casino located on the Las Vegas strip. At Bellagio, you will find lots of things to see and do that are fun for both kids and adults alike. Kids (and many adults) will swoon at the pools of chocolate running through the world's largest chocolate fountain at Jean Phillippe, an incredible patisserie located in the hotel. They will probably beg for one of the delectable looking pastries lining the display cases. Try the crepes. Really. I mean it, really. Go ahead, splurge on one, it's totally worth the cost in calories and money.  
After you've had a pastry, you'll want to walk off those calories, so head on down to the Conservatory, located near the front desk of Bellagio, and take a look at the lush and artful display. When we visited, a huge talking tree, much like the one in the movie Pochantas, was greeting passers-by; my granddaughter stared in rapt fascination. So did her grandmother. Stunning water displays use advanced technologies to create smooth arches of water. We could have watched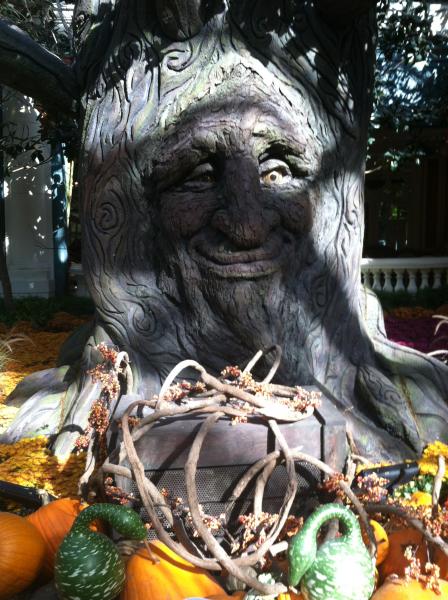 them all day.
A last word about Bellagio: Buffets in Vegas are famous for their lavish displays and decadent treats. I am known for being a bit of a food snob, so I wasn't really expecting much from the buffet except large quantities of food-service frozen entrees.
But The Buffet at Bellagio was so incredible that this foodie nearly swooned with delight. Innovative food was all freshly prepared and delicious. Adults will find fantastic grown-up food, but be sure to sneak a serving of the incredible mac and cheese when you pick one up for your fussy little eaters. Wood-fired pizzas and homemade sausages will tempt the little ones as well. And don't even get me started on the desserts. I didn't hate myself until I went back for seconds on dessert. But it was so worth it.
---
Back to main Las Vegas Review page
---
© 2012, KidsOutAndAbout.com
June Santini is Vice President of Operations at KidsOutandAbout. She lives in Honeoye Falls, NY with her husband, Steve, and two of their four children. She is adjusting to her half empty nest and comforting herself by taking her granddaughter to every cultural experience she can.