I Can Tell You How To Get, How To Get To Sesame Place: a KidsOutAndAbout review
A Review of Sesame Place
by Mark Asch
Sesame Place
100 Sesame Road
Langhorne, PA 19047
1-866-GO-4-ELMO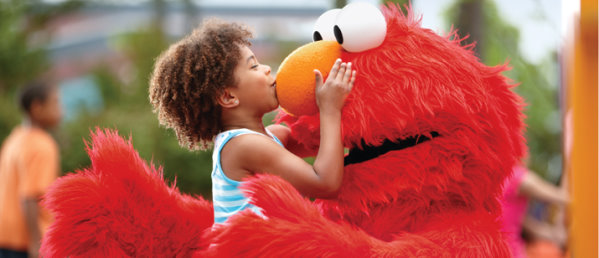 The single most important thing to know about visiting Sesame Place is this: If you are only going for one day, arrive at 3:00pm to get the "Twilight Ticket." The admission price is reduced $16, it includes dinner, you still have over 5 hours to enjoy the park, the lines are shorter, the heat is reduced, there's a "Street Party Night Parade" with all the characters, and there's a special thrill to riding the rides in the early evening.
Had I known all this before hitting the park on a recent Saturday morning, well, that would have been great. But even though the lines were long, the sun was blazing, and my child insisted that I join him on rides designed to separate your meat from your bones, a fine time was had.
Fun for all ages. Yes, really.
Second thing to know: Sesame Place is not just for little kids. It's truly enjoyable for all ages from 2 to adult. While there are a good number of exciting riding, climbing, splashing, floating and screaming activities that are specifically for the 7-and-under set, there are many other activities that older kids and grown-ups will love, as evidenced by the crowds around us. Even kids who are only 36" tall can ride on anything as long as they are accompanied by an adult.
More than rides
Sesame Place has fun parades with lots of Sesame Street characters and impressive floats, and there are some other shows in small theaters throughout the day and evening. These can be perfect as a break from the rides, or if you've just eaten, or if you really need some shade and air conditioning. Some of the eateries are indoors and air conditioned, too, and there are other shaded areas and misters throughout. Even on a busy day, the park was clean compared with others I've visited.
But it's all about the rides, isn't it?
The rides at Sesame Place seemed well-maintained, and the operators were alert and generally careful and friendly. There are water rides and dry rides, but, handily, you can wear wet clothes on both.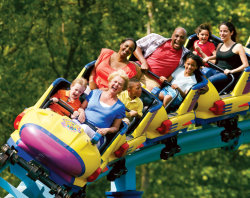 Here is a link to the dry fun attractions.
Here is a link to the wet fun attractions.
The two main kinds of rides are well-represented.
There's the kind that involves traveling in a small raft or car from a high point to a low point as jarringly as possible, perhaps while being splashed, and the other kind where you get strapped into some kind of seat and spun around and rocked for a while with the apparent goal of reconfiguring your internal organs. In case you haven't ridden on such contraptions in a while, they are incredibly fun. (Usually, when you get shaken like this, a very expensive air-bag gets deployed, so this is definitely the way to do it. To enhance the effect, be sure to have a small child next to you who can scream in your ear and occasionally mock your increasingly fraught expression.)
None of these rides is as large as the largest ones at other parks, and the single roller coaster is definitely on the small side. But this is not necessarily a bad thing, especially if your child is younger or shorter or not yet experienced with being a passenger in a centrifuge.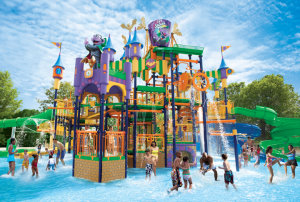 And if your child deems the Sesame Place rides thrilling, which is entirely likely, then you'll know that next summer it could be time to try Brain Scrambler Mountain or The Amazing Nausea Machine at some other park. Nevertheless, the fun Sesame Street theme, relative affordability, and overall quality will probably have you returning every year for a long time.
How much will it cost?
Let's talk about wallet impacts. Sesame Place is reasonably priced for this sort of thing, particularly if you can get there more than once during the season. (If not, go with the Twilight Ticket, described above.) Regular admission is $56, but, wonderfully, this is good for a second day, which can be any other day during the normal season.
Season passes are available, which give you unlimited admission, access to various exclusive events, and also give you 30% off in-park merchandise. This can save you a lot of coin compared to going to multiple parks in one season. There are also group rates. And you can get a discount if you are doing a write-up for a major website.
Sesame Place details a bunch of ways to save money on this page of their web site.
Small Things to Know That Make A Difference
The park opens at 10:00am. Summer hours are 10am-9pm early and midsummer, 10am-8:30pm late summer. Click here for a park calendar of hours.

Lockers, $20 up front with a $5 deposit refunded when the key is returned, can hold two full (but tightly mashed) backpacks and a couple of towels. These are recommended, unless someone in your group wants to be the pack mule all day.
A pricey but luxurious alternative to lockers are cabanas for up to 6 people ($160, reservations required), which provide storage, privacy, bottled water, towels, and a mini-fridge.
A very useful service provided by the park is the ability to have your credit card info stored on a plastic wristband. You can simply have this scanned to pay for purchases at most of the eateries and shops, keeping your wallet in your locker while you go on the water rides.
You also may find it useful to put some cash, a credit card, locker key, or other small item in one of those little waterproof storage boxes which are worn around the neck. These are sold in the shops there for 6 bucks.
For additional park details, directions, etc., see the park website, SesamePlace.com, which is very well-designed and helpful.

Sesame Place is open every day in the summer, from the third weekend of May through Labor Day. After that, it's open Saturdays and Sundays through Halloween. Here are upcoming events for the 2011 "off-season." Then, at Christmas, they are open Friday, Saturday, and Sunday afternoons from the Friday after Thanksgiving until the Sunday before Christmas, and it continues the week after Christmas. New for 2011, this event is "A Very Furry Christmas."
---
© 2011, Mark Asch.