Holiday & Christmas Light Displays in the Capital District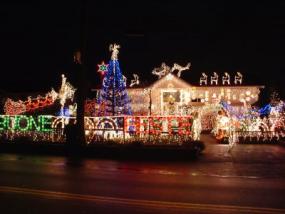 List for 2017
If you have suggestions for other places to go to see holiday lights, please email Katie Beltramo at katie@kidsoutandabout.com the address and/or place to go, and any other information or comments you have!
Thanks to the terrific KidsOutAndAbout.com readers who have sent in their suggestions for other places that families can go to see light displays!
Albany
Annual Price Chopper/Market 32 Holiday Lights in the Park
Located in Washington Park in Downtown Albany
Sundays through Thursdays from 6 to 9 pm and Fridays and Saturdays from 6 to 10 pm Friday and Saturdays from 6 - 10 pm
Price is $20/car, and proceeds go to Albany Police Athletic League
A reader suggests the neighborhood on Krumkill Road on the Albany/Bethlehem line. Approach from Bethlehem.
Round Lake (near Malta)
Annual Santa's Play Land Open House - Quick Response Restoration
Parking available at Corpus Christi Church at 231 Ushers Road or at 21 Wood Road, both located in Round Lake
December 8-9
5:30-9 pm
FREE
Not confirmed yet for 2017:
Amsterdam
Marching Rams' 'Light Up the Sky'
Located at at 154 Brookside Ave., Amsterdam.
December 1-23.
6:30-9:30 pm
$5/car, proceeds benefit the Marching Rams of Amsterdam High School
Also collecting canned goods for Catholic Charities food pantry and new toys for Toys for Tots.
Kristy Pollack Memorial Light Display
Located at Lyon Street, Amsterdam.
December 2-January 1.
5-10 pm
Free to drive, but please plan to donate to Make-A-Wish.
---