Get Active at Bounce Around in Clifton Park Center Mall
by Katie Beltramo
How can you make your shopping excursion a bit more palatable for the kids? Bounce into Bounce Around at Clifton Park Center Mall between visits to stores.
---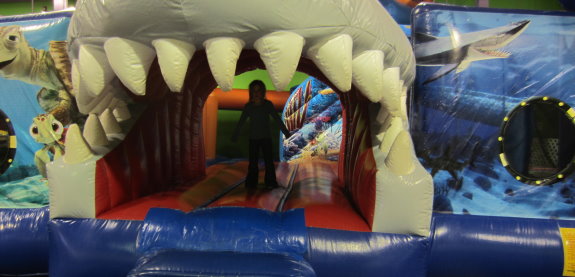 Bounce Around offers active fun for kids with a variety of different bouncy-bounces. On our visit, the kids' favorite was Nemo and the super-high slide. Because they manufacture and rent out bounce houses, equipment rotates occasionally, and fans are notified via their Facebook page, where discounts and deals are offered fairly regularly.
How much does it cost?
If you're not up for a commitment, you can choose a half-hour bounce for $5.50. If you've got the kids along for a day of shopping, you can pay $10.75 for an all-day pass and come in and out. An adult must stay to supervise the kids.
 A monthly pass costs $24.99, so if you're a frequent Clifton Park Center shopper, it might be a good option.  Here's a complete and updated list of passes and prices as of late 2012.
Can very young children bounce?
Bounce Around is designed for kids ages 1 to 12. One of the inflatables is always reserved for toddlers, so there's always a safe space for the littlest bouncers. But all of the bounce spaces are for kids only, which means that, for everyone's safety, parents aren't allowed on the equipment. Staff members are available to stage a "rescue" if necessary. If you're not sure if your brand-new bouncer will feel comfortable, just tell the staff and they'll give your child the opportunity to try for a few minutes before you pay. Mitchell Mendelson, the General Manager, suggests purchasing only a half-hour pass for very young children, who can get wiped out pretty quickly. If your child is still going strong, you can always just pay the difference to stay longer.
Any offerings besides the bouncing?
Along with the bouncy-bounces, there are arcade-style games that require tokens to play and reward you with tickets. What is it about this process that mesmerizes children? The lights and sounds, coupled with the bouncing, are likely to exhaust parents and children alike, so plan accordingly!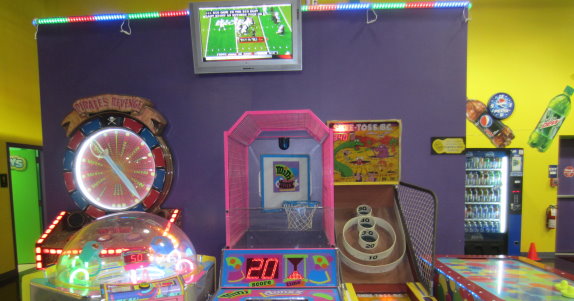 There's a basic snack bar, and when we went, they were advertising a  Happy Family (2) Hour Special that includes a large pizza and a 2-liter, plus two hours of bouncing. It's more active and, at $22.95, less expensive than dinner and a movie. Check for current specials here.
What about birthday parties?
Bounce Around is a popular destination for birthday parties, and on a weekend, you're likely to see several running simultaneously in separate party areas. A basic package ($120 + tax) for up to 8 children offers 2 hours of bouncing, tokens for each guest, a party area with a hostess and balloons, place settings and a popcorn and drink snack. You bring your own cake and/or ice cream. Other outside food and drinks aren't allowed, but there's a snack bar available as well as packages that include food and/or goodie bags.
Important Tips
Don't forget the socks! They're required for bouncing.
If you're thinking of booking a birthday party, plan far ahead and scope it out first to determine if there's a party space that you prefer to reserve.
For little ones, keep your first visit short.
If you have bigger kids, ensure that they know the rules (including which bouncy-bounce is toddlers-only) before you set them loose.
Tag-team with another grown-up: one can shop while the other supervises, then switch.
"Like" Bounce Around on Facebook for deals and updates.
---
© 2012, Katie Beltramo Katie Beltramo, a mother of two, is Editor of KiidsOutAndAbout.com and blogs at Capital District Fun.