Family Fun in Westchester County, NY
by Katie Beltramo
My daughter and I were very excited for our trip to LEGOLAND Discovery Center Westchester, but we were surprised to find plenty of fun nearby, too.
We stayed at the Hampton Inn Yonkers, which was comfortable and close to everywhere we wanted to go, plus it offers a LEGOLAND Discovery Center Westchester package. I appreciated the free shuttle services, while my daughter was a huge fan of making her own waffles as part of the hot breakfast buffet.
Philipse Manor Hall
We took a tour of Philipse Manor Hall State Historic Site, which was just a few minutes from our hotel. The home's original owners were Loyalists who fled to England during the Revolutionary War. We liked the details in the historic architecture, like the Delft tiles and the lovely ceilings with intricate papier maché designs.
Along with the house itself, exhibitions include several presidential portraits, including a portrait for every New York State president (do you know how many there were? Click the link to find out).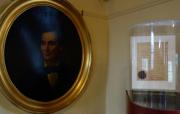 Even little kids were suitably impressed to see a real letter written by Abraham Lincoln, too, even if his nearby portrait showed an unfamiliar, clean-shaven Abe.
 By far, the most interesting aspect of the museum was its exhibits on slavery in New York, which included information about how slavery evolved as this area changed hands from the Dutch to the English to the Americans, along with
more general information about slavery through the ages and slavery today. Interactive exhibits helped explain the life of a slave to children in terms that they could understand, including boxes to show how confined slaves were as they were shipped like cargo across the ocean, a weighted bucket to give kids a sense of how much work bringing water from the well required, and a touchable display of the kinds of fabrics worn by slaves vs. Philipse family members. My daughter was fascinated, and we wished we had more time to read everything.
Dinner at Havana Central
We had a delicious dinner at Havana Central Restaurant & Bar, which specializes in Cuban cuisine and drinks with a 50s Cuban vibe: think palms and fans everywhere, gorgeous retro light fixtures, and a big portrait of Ricky & Lucy Ricardo.
My daughter and I both indulged ourselves: she had a Shirley Temple while I had a sangria. And then we had the yummiest plantain chips that we'd ever encountered. They came with avocado salsa and mojo, which was a delicious garlic oil. So. good. We also had empanadas and chicharron, which were crispy little pieces of deep-fried chicken: all great, easy ways to introduce kids to a new culture by offering them a twist on the familiar.
On the kids' menu, as well, they offered up choices that were familiar (chicken fingers and grilled cheese) as well as choices with more of a Cuban feel (like an empanada or some skirt steak). Kids get plenty of choices for sides as well, including apple sauce, steamed broccoli, rice and beans, and fries. They even offer a non-alcoholic mojito! We followed these up with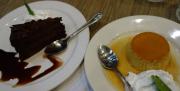 shrimp and chicken, both tasty, and we agreed that you should choose the yellow rice over the normal white variety.
We didn't think that we could possibly eat more, but when we encountered the dessert menu with its Chocolate Thunder Cake and Flan made on-site, we rose to the occasion. I overheard a child nearby declare his churros to be "the best dessert ever."
As we headed out, a live band was just getting started--while it was great with kids, I'll bet Havana Central's a pretty awesome date night, too.
Walking Around Ridge Hill
Both our dinner and LEGOLAND Discovery Center Westchester are located at Westchester's Ridge Hill, a shopping district (not an indoor mall) in Yonkers. In between our other adventures, we found a dress for an upcoming event, scooped up some treats at Frannie's Goodie Shop, explored the super-cool Desigual store, took in a movie, and admired the sculptural little playground (we loved the miniature people perched everywhere, including between some enormous toes). While we'd encountered many of the stores before, it was fun to run around a new destination.
More to Explore
We visited on a cold and dreary weekend, but if I were traveling there in better weather, I'd absolutely want to take a walk on the pier along the Hudson River. One of the fun spots to visit along the river is the Science Barge, which is open on the weekends from mid-April to November. The barge is a self-sustaining floating greenhouse where they teach kids and adults about sustainable food production.
On our next visit, we'll want to check out the Hudson River Museum and Beczak Environmental Education Center. For more information on Westchester destinations, check out Visit Westchester online.
---
© 2015, Katie Beltramo.
Katie Beltramo, a mother of two, is an editor at Kids Out and About. She also blogs at Capital District Fun.
---