Family-Friendly Review: Joseph at Sight and Sound Theatre
By Brian K. Smith
In the heart of Pennsylvania's Amish country is Sight & Sound in Lancaster County.  The largest faith-based live theatre in the country, Sight and Sound Theatres recently celebrated 35 years of bringing the Bible to life with original Broadway-quality stage productions.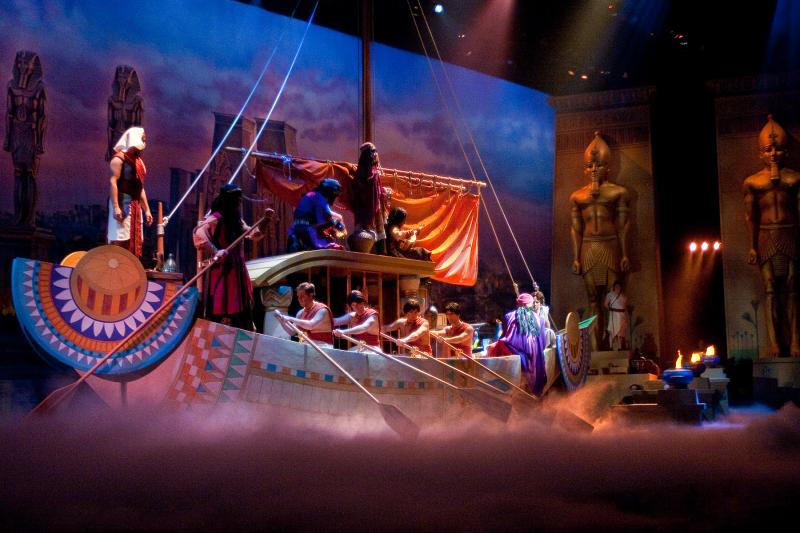 The current production at Sight & Sound is Joseph.   It is the quintessential family story.  While his brothers seem to work hard in the family business, Joseph is the dreamer; what's more, he's dad's favorite son.  Joseph's brothers don't take kindly to the dreams in which he takes center stage, and their sibling rivalry leads them to make a choice they later regret, only to learn a powerful lesson on forgiveness and integrity.
Joseph is truly a multimedia experience.  The story comes to life with larger-than-life sets on a huge 300 foot stage that wraps around three sides the audience.  Creative projection technology makes the impossible possible as you travel back in time to the grandeur and colors of ancient Egypt.  Kids will love seeing the live animals up close, walking in the theatre aisles:  camels, horses, donkeys, cattle, sheep, goats, birds, and more!   There's even a dream sequence where Joseph soars over the audience among the stars.
The 2,000-seat Millenium Theatre offers a great view from any section.  Concessions are reasonably priced and patrons are allowed to bring purchased items into the theatre.
Joseph was an engaging experience, but just like a dream, it won't be around for long.  Joseph runs through October 22nd and will be followed by another original production, Miracle of Christmas.  For more details on Joseph, click here for the Sight & Sound website.
---
©2011, Brian K. Smith
Brian Smith lives in Penfield, NY and has two children: a 13yr. old boy and a 5yr old girl. He is the Pastor at St. Mark Lutheran Church in Mendon, NY and performs magic in the Greater Rochester area. You may contact him by phone or txt (585.301.8564), send an email
(pastorsmith@stmarkmendon.org)
, or visit the church website at
www.stmarkmendon.org