Family-Friendly Food In and Around Lake Placid
(Click here to get back to the main Lake Placid review links.)
Reviews of family-friendly places to eat around Lake Placid.
Lisa G's
A local pointed us to Lisa G's in Lake Placid, and we were so glad that he did. The staff were friendly, and we sat outside on the patio which overlooks the small mill pond dam called "Jack's Dam."
Sitting outside was pleasant on its own, but my girls enjoyed brief explorations of the garden and small park adjacent to the restaurant. This conveniently located little stroll makes the restaurant a great destination if you're bringing along a restless toddler or preschooler.
The girls ordered pasta with sauce and a hamburger from the Kids' Menu. The burger was slider-sized, which meant that it was not quite enough food for my 9-year-old, although they quickly produced another for us (yes, we were charged extra). They agreed that the meals were extra-yummy. The chicken curry sandwich could have been spicier, but the fried tortillas that they used in place of bread were clever and scrumptious, and the chicken club sandwich was great. The French fries were shoestring-shaped with the skins, and they ranked as some of our favorite fries ever.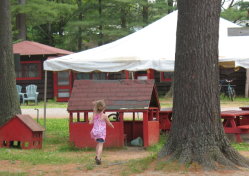 Tail o' the Pup
Tail o' the Pup beckons from Rte. 86 in Ray Brook (just outside of Lake Placid) and it's tough to pass up. The barbeque is delicious, but even if you weren't hungry, it's tempting to hang out there for a bit. With plenty of picnic tables set up outside and a motley assortment of play equipment to explore, Tail o' the Pup feels like an informal family picnic, if your family included skilled cooks and some bikers.
They've got all the barbecue basics, including beans that were a hit all-around and our favorite, the ribs: dry rubbed and not too spicy, so my sometimes-fussy daughter ate them. There are chicken fingers and hot dogs for those kids who aren't barbecue enthusiasts. Kids get a free ice cream cone from a small-but-tasty selection, and parents who crave other frozen delights can indulge in margaritas.
My kids loved that the ice cream, margaritas, and other items were sold from small, separate stands, and coupled with the small rental cabins, they make guests feel as if they've stepped into a very small village. There's a retro chair lift that's perfect for photo ops, and a covered stage area next to the picnic tables is great for frequent live music. Even though it's informal, you can still sit down and get waited on like civilized people, which was perfect for our first visit, just after a morning of mountain climbing. After an outing of hiking, biking, or boating, relaxing with a half rack of ribs and a frozen margarita is just about perfect.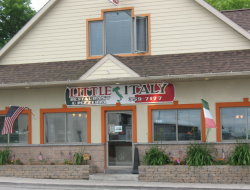 Little Italy in Tupper Lake
Right near the Wild Center in Tupper Lake, we ducked into a pizza joint because the kids were all famished. The façade of Little Italy was basic and our expectations were low, so the sit-down restaurant atmosphere and Italian décor were a surprise. Even better, our large group was put in a small side room—is there anything better for dining with kids that your own room?
The food was reasonably priced and good. Salads were fresh, with better-than-usual dressing. There was fighting over the last of the garlic knots, and my daughter was thrilled that they had her favorite hard-to-find pizza topping, artichoke hearts. A calzone was delicious but would have benefited from some marinara for dipping. Service was great, and altogether it was a pleasant surprise, conveniently located.
---
© 2011 Katie Beltramo. Katie is the Albany-area editor of KidsOutAndAbout.com. She also blogs at
CapitalDistrictFun.com
.