Children's Theater in Rochester: Magic and Memories Build Academic Success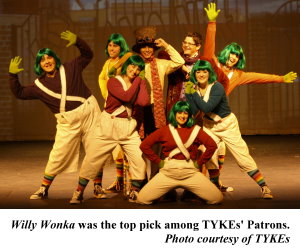 by Carol White Llewellyn
I attended my first live show when I was about four. I climbed excitedly into the car, wearing my Grandma-made white dress, to go see the Ice Capades.  On the way to the show, Dad had to slam on the brakes. Even the mortifying red "badge" down the front of my favorite dress - the result of nose hitting headrest - didn't mar the ecstasy of that first performance.
A few years later, my parents bought tickets to a series of three children's shows performed at the local High School.  Happily, those performances weren't upstaged by any unfortunate occurrences.  I still recall the magic of watching Cinderella and her prince waltz on stage, of seeing the cast of The Magic Toy Shop cavort through the audience, and hearing the thrilling strains of Peter and the Wolf played by a real orchestra. It's no wonder I love the arts.
Many studies demonstrate that performing is beneficial to children, but what about kids—like I was and my daughters are—who are too shy to perform and simply prefer to watchtheater? What's in it for them? 
Plenty, it turns out.  In an age when many children are absorbed in electronic interactivity, theater gives kids another way to connect. Arts Education studies have shown that being a spectator at performing arts helps children gain the ability to empathize with others.  It boosts literacy, fosters imagination and creativity, improves memory and strengthens problem-solving and critical-thinking skills*.  In essence, it provides a wonderful foundation for academic success!
In Rochester, families are incredibly lucky to have not just one, but two professional children's theater companies offering an outstanding selection of children's entertainment.
TYKEs (Theater Young Kids Enjoy)
TYKEs, now in its eighth season, was formed by Freyda Schneider and Gina Donahue, two former members of Rochester Children's Theater. The two women are also parents and they recognize how good theater captivates youngsters and enriches their lives.
...
---
*Source: Fact Sheet about the Benefits of Arts Education for Children (www.artsusa.org)
---