What to Do on Black Friday Instead of Shopping!

by Katie Beltramo
If the thought of rushing into a shopping frenzy on such a full stomach makes you feel a little sick, here are some ideas for continuing the family quality time on the Friday after Thanksgiving. Check our calendar for more.
Go Outside
We could all use a little activity, and we're heading into winter. Take a pause from the rush and embrace the weather as it is now, with your family as it is today.
Go for a hike
Play a game of touch football or soccer
Rake your neighbor's leaves
Go skiing! Yes, a few places are open already!
Putter & Snuggle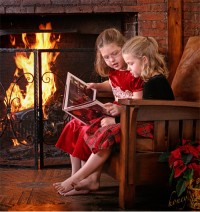 Recover from the cooking and the traveling and fortify yourself for the busy weeks ahead by unplugging from the devices and hunkering down for some mellow, cozy family time.
Make a fire in the fireplace
Snuggle under the blanket with a stack of books
Build card houses or work a jigsaw puzzle together
Have a board game marathon
Get Active Indoors
You've got to work off all that food, but it's too cold outside for you? Try something new--or an old favorite--with the whole family.
Roller skate
Rock climb
Bowl
Ice skate
Prepare for the Season
If your To Do list is making you fret, choose an activity that will help you check an item off the list while emphasizing fun together time--now that's the spirit!
Cut your own Christmas tree
Craft holiday ornaments or decorations
Ponder cookie or gift recipes to try
Gather greens to decorate or make a wreath
All Right—If You Must Shop
Consider alternative gifts beyond what you'll find in tv ads or behind the automatic doors of the national retail chains.
Shop museum gift shops for unique items
Consider charitable giving options
Stroll Main Street
Seek out experience gifts, like tickets to a show, memberships to a museum, play center, or other fun destination, or lessons
© 2019 Katie Beltramo.
Katie Beltramo, a mom of two, is editor of Kids Out and About for New York's Capital Region. She also blogs at Capital District Fun.