Visiting Disney World's Animal Kingdom
by Katie Beltramo
Disney's Animal Kingdom offers a wide variety of fun—from animal encounters to amusement park rides and great shows—but the park's dense design makes it feel much more manageable to explore than, say, Epcot or the Magic Kingdom.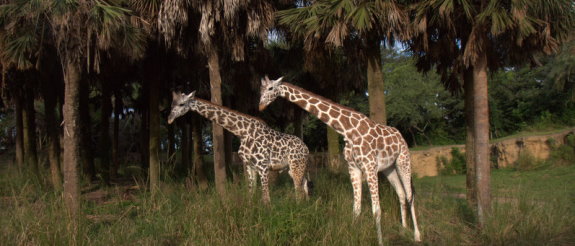 Our family visited on two separate morning because we wanted to take advantage of the Magic Hours for resort guests on one day, and we had reservations for Donald's Safari Breakfast at Tusker House Restaurant on another day. We managed to pack in as much Animal Kingdom fun as we wanted, although we repeated some activities while choosing to forego more typical zoo offerings, like the petting zoo and some of the longer walks to look at animals.
Like the Magic Kingdom, Animal Kingdom has different sections with distinct characteristics.
We especially loved Africa and Asia, with cast members playing African drums or blowing bubbles and inviting kids to join in the fun. The Yak & Yeti eggrolls were one of our favorite Dining Plan snacks, too. I was less enthusiastic about Dinoland U.S.A. The Boneyard was a destination for kids to play, but I resented the carnival-style games that charged extra money (as if guests haven't spent enough to get in the door). We were fortunate, though, to meet a cast member who took advantage of the slow period that we were here to help us engineer winning stuffed animals for each of the young kids in our group. Camp Minnie-Mickey offers character greeting right next to the Festival of the Lion King, so it's a convenient place to split up without losing each other entirely.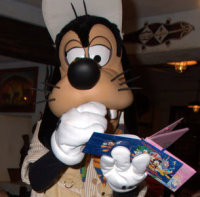 Here are some other Animal Kingdom highlights:
Donald's Safari Breakfast at Tusker House Restaurant offers three of our favorite things at Disney: a chance to get started ahead of the crowd, plenty of characters to meet, and a buffet. Oh, yes. Tusker House has an African theme, carried through in the décor, musical instruments that kids are invited to play along with the characters, and enough exotic offerings on the buffet (along with a yummy "house juice") to please those with adventurous palates.
Of course, along with these, there's a child-sized section of the buffet with plenty to keep the kids happy. Donald poses with guests as they arrive, and Daisy, Goofy, & Pluto roam through the restaurant in their safari khakis. If you choose to make reservations, earlier is best, but if your reservation is later than you'd like, showing up a bit early might increase your chances to stay ahead of the pack.
We saw two shows while at Animal Kingdom: It's Tough to Be a Bug! and Festival of the Lion King.
The bug show, which was mostly a 3-D film with plenty of Disney-style interaction, received mixed reviews from our group. Some of the kids found it scary and were even resistant to other 3-D shows later. Most of us found it cute and funny, but if you find yourself in the theater with a frightened child halfway through the show (as I did), take my advice and put the kid in your lap until it's time to leave the theater.
The Festival of the Lion King, on the other hand, was an unqualified success. It felt like a cross between a circus act and a Broadway show condensed into 30 minutes, and the performers, sets, and costumes were pretty spectacular.
More on Disney World's Animal Kingdom Rides
---
©2011, Katie Beltramo
Katie Beltramo, a mom of two, is editor of Kids Out and About--Albany. She also blogs at Capital District Fun.