A Review of Roseland Water Park: Amusement and Water Park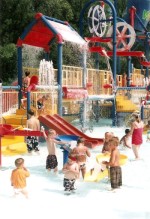 Outdoor Recreation in Beautiful Canandaigua, NY
By Debra Ross
I eyed the dark gray clouds rolling in from the west, and hesitated before we stepped up to the ticket counter. "Mom, but isn't their motto GET SET TO GET WET?" my 9-year-old daughter Madison said, as she urged me forward. "Just get set!"
It may not have been the perfect day to go to Roseland Water Park...but it made for a great Test Case day. If Roseland could live up to its billing as a family-friendly place that is relaxing and exciting by turns, even in the rain, then we'd be happy campers.
Roseland bills itself as "the hottest spot to get cool on Canandaigua Lake." It is the largest waterpark in the Finger Lakes Region, with 56 acres of aquatic adventure for the entire family.
The first thing I noticed was the beautiful landscaping in the park. It felt remarkably like Disney World--of course, without the Mouse. But the crew at Roseland obviously puts money and effort into making you feel as though you're on a little daylong vacation. The park is clean, remarkably clean, which I'm sure has to do both with the clientele (people like us, you could tell, who just don't throw trash around) and with company policy.
The first thing that hit my kids was not the landscaping...it was the Giant Wave Pool off to their left. Now, I often wonder about the truth in advertising about places like this: Does Giant really mean "giant"? In this case at least, this is not simply a lot of hype: None of us had seen such a big wave pool before; my girls have enjoyed the wave pools at Sea Breeze and Great Wolf Lodge, and those don't begin to compare in size and scope. They plunged right in, and I had a hard time getting them out to try out the rest of the park.
When I had asked a friend who went to Roseland some years ago what she remembered most, she said, "The water was cold." So part of my mission was to see whether that was true; it takes me a really long time to get used to cold water. The water may have been cold when my friend visited, but the temperature was just peachy in June 2009 when we went. Roseland's web site says that its water is heated, and while it certainly wasn't bathwater-warm, it wasn't colder than water at any other attractions we've visited.
Safety
Drew Broderick, the marketing director of Roseland, pointed out that Roseland's policy is to hire more staff than required by regulations; there are eight lifeguards ringing the wave pool, for instance, no matter how few people are in the pool. Their lifeguards are certified by Ellis & Associates, the company that certifies about 98% of the water parks in the U.S. Every day, when each lifeguard arrives at work, they undergo some sort of training. In addition, it is Roseland's policy that the lifeguards do not engage in casual conversations while on duty, but because kids often love interacting with lifeguards, Roseland has special little sessions where lifeguards do face painting and sidewalk chalk drawing with visitors.
The park in general felt remarkably safe to me; if I hadn't been actively participating in all of the water fun, I would have felt perfectly comfortable plunking myself down with a book and letting my 'tweens have freedom to roam throughout the park, as long as they check in every so often. Of course, every parent should stay in her own comfort zone, but for me, the size of Roseland is manageable, and I was happy with the number of lifeguard eyes that were on my kids every second they were in the water, so they could be on their own for a while. In contrast, at a large theme park resort such as Darien Lake, it is not nearly as easy to give 'tweens the independence they desire.
Attractions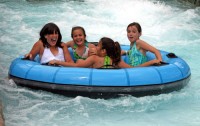 Roseland has the Giant Wave Pool; the Splash Factory--a playground for kids under 48" tall with waterslides and a big dumping bucket; a Speed Slides (The Cliff was too intimidating for my 8- and 9-year old, but they enjoyed The Twister, which was too wild for me; and the Adventure River (what other attractions call the "lazy river"--but it feels like much more of an Adventure River with some whitewater effect!).
All of Roseland's attractions are included in the main price except the Water Wars (extra $2 for a bucket of water balloons) and taking a boat or canoe out on the little lake (extra $3).
Food
Food, of course, is also not included in the park entrance fee. Roseland's policy asks that if you bring your own food, you exit the park temporarily and picnic in the little grove outside the main entrance. They have a nice outdoor cafe, too, with real food (not simply "amusement park fast food fare") and even a number of healthful selections. Equally important, the cafe food is available at significantly better prices than you'll find at other area amusement parks. Here are some samples of 2009 prices: hot dog: $2.50; tossed salad: $2.95; whole 16" cheese pizza: $10.50; apple: $.80; popcorn: $1.95; wraps: $5.25; cheese sticks: $3.95; hard ice cream cone: $2.50; fruit cup: $1.25.
Age Recommendations
Many families have children with a wide age range, and are on the constant lookout for an activity that has "something for everyone." My assessment: Roseland Water Park is appropriate for kids from the very young through early teens. There was a nice complement of young couples (mostly with toddlers) and grandparents in the park when we were there, too.
Towels and lockers
Bring your own towels!
Day lockers are available to rent for $5 per day at the gift shop. (Pay $10 up front, get $5 back at end of the day. Lockers are small, but adequate for purses: 9"x12" X 16".) A locker can be purchased for the season for $40.
Park Hours
From the end of June through August 9, park hours are 11am-7:30pm (except for July 4, when Roseland has free extended evening hours--you get a great view of the Canandaigua fireworks from the Giant Wave Pool!). From August 10-September 4, the hours are 11am-7pm.
Lines
The lines at the Roseland water slides were nonexistent on a cloudy day in late June; no one I have talked with remembers waiting more than 10 minutes even on the hottest day in midsummer. (Tell me, readers, if your experience is different.)
Pricing
Purchase before you visit and save! Click here for this year's pricing deals.
Group rates: Parties of 20 or more can get in at a much reduced rate per person, with one free chaperone ticket for every 10 paid admissions! You must let them know in advance, but it can be as soon 2-3 days before you plan to attend. Call 585-396-2000 ext. 119 for group reservations. For a small extra fee, you can reserve a tent under which you can eat lunch or have an event.
Season pass: "Slide 8" cards include admission to the park on 8 days during the season, for $169. Slide 8 passes ARE transferable! "Awesome August" tickets are available for unlimited admission for $54.95 in 2017. Season passes for children 2 and younger are free with an adult paid season pass, provided the child is 2 or under at the time of the purchase.
Birthday parties: $140 - $180. includes six admissions, party invitations, free admission for birthday guest, a 1/4 sheet Wegmans cake, two complimentary lockers, and a reserved picnic table in the Food Court.
Summary
Is Roseland Water Park an amusement park? Is it an oasis for parents? I would say it's both. It's a stress-free water park that nevertheless provides enough excitement to keep your teens and preteens safely occupied, even out of your sight, plus it's a safe environment for toddlers, preschoolers, and early-elementary age kids to explore all that is good and memorable about summertime in the Finger Lakes.
Click here for a KOA reader's independent comparison of Roseland Water Park with SeaBreeze.
************************************
Click here for the Roseland Water Park main web site
Click here for a 2010 $4 off coupon