Review of Mount Snow in West Dover, VT
by Katie Beltramo

Our family recently spent an excellent day of skiing at Mount Snow. Mount Snow, located in the the Green Mountain National Forest in Southern Vermont, is a big mountain resort (summit elevation over 3500' and 80 trails) that's relatively close to home, especially since Vermont Route 279 was extended last year to bypass Bennington and shave the drive time from Albany down to an hour and a half.
The Slopes and the Lifts
Honestly, we almost canceled our visit to Mount Snow after a freak wave of rain and 65 degree weather melted snow throughout the area and made the prospects for great conditions seem slim. We're glad we went, though, because with snowmaking on 80% of the mountain, we had plenty of snowy runs. Mount Snow's recent $10 million investment in high output/high efficiency snow fan guns paid off in powder that seems more fluffy and natural than the crunchy styrofoam snow we'll sometimes find on mountains.
One thing our family loves about Mount Snow is the variety of trails on the Main Face of the mountain. A relative novice can still join the family on a lift all the way to the summit and comfortably ski down Long John, and many of the intermediate blue trails are wide enough to allow hesitant skiers to take wide turns, while those who are more confident will delight in finding bumps and dips. Some of our family-favorite trails include Canyon, Snowdance, Ridge, and Hop.
Beyond the Main Face, there are three other areas of the mountain. Sunbrook has more intermediate slopes, including a family favorite, Thanks Walt, named after Mount Snow's founder. It's also where you'll find Bear Trap, a short, mogul-riddled slope that has its own small lift and rock sound system to serve some of the biggest show-offs you'll find on the slopes. Expert skiiers gravitate to the North Face, where you'll find most of Mount Snow's black diamond trails. The Carinthia area is a freestyle terrain park that snowboarders will love. While a family of experts might want more, especially if the North Face is closed, the trails offer plenty of area to cover for most families. For details, check out the trail map here.
There are a variety of lifts served by friendly and experienced staff members who manage the lines well (this coming from a woman who will shamelessly call out "doubles, double up!" to the humiliation of my children). But after a visit to Mount Snow, I can't bring myself even to mention any of them except for my new true love, the Bluebird Express, the only bubble-style lift in North America. Holy cow, I love the Bluebird. Our whole family loves the Bluebird, and so, it seems, does everyone else we met at Mount Snow, because it was impossible to ride the lift without gushing to strangers about the simple but revelatory experience of this bubble lift. It's a high-speed six-seater, but once you've boarded and brought down the safety bar, you can pull down a hood that forms a blue-tinted windshied to protect you from the elements.
Prior to trying the Bluebird Express, I expected that the bubble would either make very little difference or conversely make me feel claustrophobic. No on both counts. The bubble is open at the bottom, so you really don't feel particularly shut in, and the difference in keeping your core, hands, and head warm is amazing. Unlike the gondola solution, there's no need to remove any equipment or learn a new procedure: it's just like a regular lift, except much, much better. We were skiing on a day when it was cold and snowing, so whenever we approached the windy summit or the snow from the sky or snow guns smacked against the bubble, we were overcome with gratitude. With cushioned seats (enclosed at the back, too!), the comfort level absolutely kept our kids skiing for longer than they would have managed under normal conditions. The efficiency of the Bluebird also cut down on line waits that I remember from long-ago visits to Mount Snow. In fact, the only drawback to the Bluebird is that we've all become a bit spoiled for regular lifts.
Learning to Ski or Ride
With over 400 instructors, Mount Snow is a great resort if you're looking for childcare options or if you have kids or adults who want to learn to ski or snowboard. Childcare alone is available all day for ages 6 months to 6 years. 3-year-olds can attend a full day camp or private lessons where they'll get started on skis or snowboards, and ages 4 to 14 can attend full- or half-day camp. For more information, check out Mount Snow's Programs for Kids. Mount Snow also offers one-on-one and group Adaptive Lessons via AbilityPLUS for individuals with physical and/or cognitive disabilities. Adults and teens ages 13 and up can take private or group lessons, too.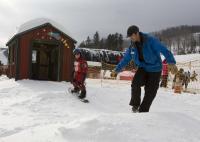 The Launch Pad area around Mount Snow's Discovery Center is a dedicated space for learning skiers, with multiple "magic carpets" (these are conveyor belts, the easiest way for small or brand-new skiers and riders to get up an incline), an awesome Burton Riglet terrain park for boarders ages 3 to 6 (where the littlest new riders stand on their board and are pulled along via a retractable cord by instructors), and small and carefully managed slopes. I loved that the beginner slope next to the Discovery Center is cordoned off from other slopes, unlike at many resorts, where more challenging trails dump into the green trails at the bottom of the hill, scaring the novices to death. Equipment rentals are also available at the Discovery Center, streamlining the process so that new skiers and riders can get to the fun part more quickly.
The Lodge & Slopeside Amenities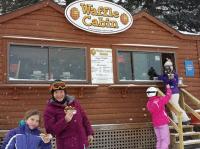 The Main Base Lodge offers up a variety of food options, including pizza, grill foods, salads, healthful snacks, sweets, and gluten-free choices. There's also a free bag check. Staff members are friendly and helpful, and volunteer Ambassadors roam about, happy to direct newcomers or offer suggestions. If your children need a pick-me-up but you'd rather skip getting everyone unbuckled and unbundled, we highly recommend a stop by the waffle cabin for a shot of warm, sugary goodness. 
Vacation Packages & Other Deals and Services
The only real drawback we found is that a day of skiing at Mount Snow is expensive: The list price for a single-day pass on weekends and holiday is $85 per adult and $65 for youths ages 6 to 18 and seniors ($5 for younger kids). Buying online will reduce those prices a bit, especially if you're planning in advance. Mount Snow also offers occasional "Youth Pay Their Age" days, even on weekends.
If you're looking for the best possible deals for saving money, check out the vacation packages, especially those available for 3- to 5-night stays midweek. Ski and Stay and The Room's On Us! bundle lift tickets and accommodations for a significant discount, and it's worth testing both offers, since which is the better deal seems to vary based on date. In addition, Mount Snow also offers Learn & Ski Free Weeks for families taking advantage of the Ski & Stay package for selected mid-week vacations. For these weeks, adults who purchase 3-to-5-night stays with lift tickets get a free lift ticket and half-day lesson for a child ages 4 to 12.
Snow Lake Lodge is Mount Snow's original hotel, and it's the most affordable option. While it's literally walking distance to the slopes, given that you'll have equipment and clunky boots, your best bet is to take the frequent shuttle to ski.
The Grand Summit Hotel is slopeside, with a heated outdoor pool, naturespa, and activities included like family movie nights, kids' crafts, and yoga. When we visited during the holidays, they offered face painting and a magician as well. You can find information on other options, like resort condos and other area lodging, here.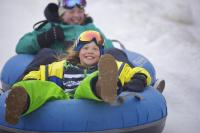 Mount Snow's retail and rental services include Skis on Demand, where a staff member will deliver rental equipment and tickets to your local location to streamline your first morning on the slopes. If you're considering buying new equipment, ask about what's available to demo for the day, and demo fees will count toward your purchase if you buy.
Tubing is also available right near the base lodge. It's $20 for a 90-minute session, which is just about the right amount of time.  But don't forget to bring regular boots, because ski boots aren't allowed.
We loved our visit to Mount Snow, and now that I know about the package deals, I'm especially tempted to go back. Do hear that? I think the Bluebird bubble is calling me. . . .
---
Here's some more nearby fun if you're visiting Mount Snow:
Snowmobile Vermont offers snowmobile tours with all the equipment you'll need for all ages and abilities.
MOOver's FREE transit system offers rides around the resort and town, especially great for allowing flexibility and independence for teens.
Adams Family Farm has sleigh rides in the winter and a petting farm year-round.
Husky Works Mushing offers dog sled adventures.
North Star Bowl has candlepin bowling and food for a relaxing night out with the kids.
Timber Creek cross country ski area has rentals, lessons, and plenty of trails for cross country skiing and snowshoeing.
The Last Chair Bar & Grill offers up a Kid Zone arcade area along with the food.

---
© 2014 Katie Beltramo

Katie Beltramo, a mom of two, is editor of Kids Out and About for New York's Capital Region. She also blogs at Capital District Fun. Photos courtesy of the Beltramo family and Mount Snow.
---