Review of The Berkshire Botanical Garden
by Katie Beltramo
My 6-year-old daughter is a gardening enthusiast, so when we were in the Berkshires recently, we visited the Berkshire Botanical Garden.
The Garden
The garden is 15 acres in West Stockbridge, Massachusetts, and the cost is $12/adult, $10/student or senior, with admission for kids 12 and under (or members) free. There is a very small welcome center and gift shop that offers basic food and a charming selection of gifts and home-grown herb specialty items. The gift shop is packed with fragile inventory, so if you have young children, you might want to send one grown-up in to pay admission and grab a map.
Beyond the gift shop, though, the garden includes alluring pathways, wide-open spaces, and enough variation to keep little kids engaged and eager to explore.
The Children's Garden
The children's garden is likely to be a first stop, and although its area is small, it kept my daughter occupied for quite a while. Attractions included a small gravel pit to use sandbox-style and a water pump with watering cans, because, as you know if you've gardened with children, watering is their favorite part. There's a fountain that runs on solar energy, and my daughter was delighted when she could stop and start the water flowing with the "magic" of her own shadow. A wishing tree includes a mailbox and supplies for children to add their own wishes, which ranged from funny to poignant. There was also a willow shelter, a space set aside for fairies, and a profusion of plants named for animals. For those families who need a little coaxing to get started, a scavenger hunt is available at the entrance to the garden.
Summer and Early Fall
The timing for our visit was excellent, because the summertime exhibitions are appealing to young and old. Tree Houses: Architects Take a Bough (just extended until October 17, 2011) consists of six houses by noted architects and designers placed around the garden grounds. Okay, technically? They're not tree houses.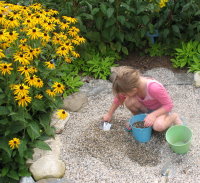 They're more like houses that sometimes incorporate trees. But we all enjoyed exploring and climbing up into the houses while discussing how we would furnish them or which ones we need for our backyard.
Bird Necessities: Outdoor Installations by Artists and Designers (open until September 15th)includes sculptural interpretations of different avian needs like food and shelter. The sculptures were surprisingly kid-accessible, with the opportunity to hunt among the crab apple trees for bird feeders and houses or walk through festoons of nest-building material fluttering from the trees. We already leave hair from our hairbrushes out for the birds, but the exhibit has inspired us to stretch our creativity (yes, I wanted to say spread our wings, but I held back) and plan other bird housing efforts.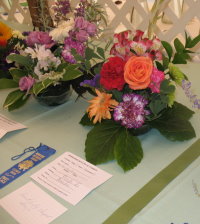 There was plenty of kid-appeal around the garden. The pond contained beautiful water lilies and some very loud frogs. There was also evidence throughout that the garden makes an effort to be child-inclusive. The herb garden area includes plants that are labeled as part of the Hogwarts Garden, and the Grow Show contestants included offerings by children who had attended a free workshop at the garden so that they could participate, too.
Plants love sunshine, and if you visit on a warm day, you'll want to bring along a hat, because it gets hot. Picnicking is permitted throughout the grounds. They have tables set up near the Children's Garden, although the stone slab next to the pond (top of the page) called out to us as a perfect picnic spot.
The next big kid-friendly event is their Annual Harvest Festival on Saturday and Sunday, October 6th and 7th, 2012. The fun includes a performance by David Grover and activities like crafts, pony rides, and a hay jump.
---

© 2011, Katie Beltramo
Katie Beltramo, a mother of two, is Editor of Kids Out and About-Albany and blogs at Capital District Fun.