Pole Position Raceway, Rosamond Gifford Zoo, & Other Family Fun Spots in Syracuse
by Katie Beltramo
While visiting Syracuse to check out WonderWorks, the indoor amusement park at  Destiny USA mall, our family also checked out some other family-friendly destinations.
Pole Position Raceway is located a short walk from WonderWorks and offers indoor go-kart racing for those 48 inches and taller. Most races are divided into all kids or all adults, although large groups can reserve family-style races with mixed age groups. You can "arrive and drive:" drivers fill out a short registration form and pay per race (current pricing is here: if you expect to race more than once, it's probably worth it to pay $5 for a week-long Temporary Race License).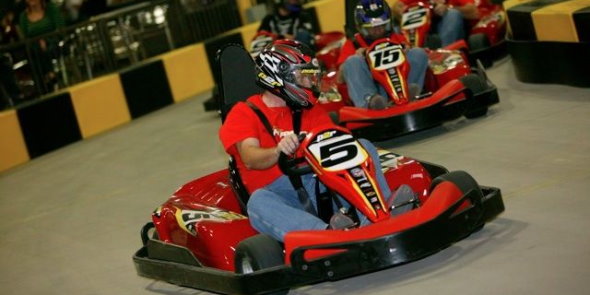 We waited a very short time before being called up to a preparation area where we watched a video and fitted ourselves with a fresh hood and driving helmet, then headed out to our assigned electric-fueled karts. Each race lasts about ten minutes, with the kids' karts racing up to 25 miles-per-hour and adults' cars reaching 45 miles-per-hour. Occasionally during the race, karts are powered down if staff see that there's a pile-up or other possibly dangerous situation. At the end of the race, each racer receives a SpeedSheet that graphs their speed, compares all the racers' speeds, and offers pointers to improve time.
If you or your child loves the idea of go-karting, you'll love Pole Position Raceway. It's fun for the racers and controlled carefully enough that even the most safety-conscious parent can handle watching. I'm a nervous driver and had never touched a go-kart before in my life. A staff member had to fix my improperly-attached seat belt and decided that I'd need a booster seat (yes, I am 42 years old), I was concerned that I would not be able to navigate onto the track at all, and I was lapped by my husband. Twice.
Nevertheless, it was fun. My only piece of advice (since I clearly can't advise anyone on actual racing techniques) is to plan ahead about when to go. First, check with staff to ensure that your schedule doesn't conflict with any special events. Second, plan to visit during hours (say, right after school or in the late morning) when you are less likely to encounter the young-but-grown-up racers who might unintentionally intimidate child racers or speak in language that makes parents cringe. 
Cantina Laredo is conveniently located near both WonderWorks and Pole Position at Destiny USA mall. The restaurant is perhaps best-known for its fresh, made-at-the-table guacamole, although after a few busy hours at WonderWorks, my husband and I were most grateful for a large margarita! We devoured way too many homemade chips, still warm, but managed to save room for the food. I liked that te Kids Menu for ages 12 and under offered items for "smaller kids" ($5.79) and "bigger kids" ($8.79) and offered a broad range from the standard Kids Menu fare of corn dogs and chicken fingers to mildly spiced but otherwise clearly Mexican choices of quesadillas and fajitas, including actual vegetables on the plate.We all enjoyed the tasty food and the reasonable portions.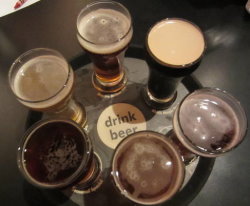 The whole family also enjoyed Empire Brewing Company in downtown Syracuse. Located below street level with huge windows to let diners see the on-site brewing facilities, the atmosphere was fun and the staff were friendly and attentive. We began our meal with a tasting sampler of their craft brew beers: at $10 for eight glasses of beer, it was a great deal. There are six standards and they rotate in two seasonal items. My favorite was "Deep Purple," made with grapes. Yum. Our favorite items included the Everything Pretzels, with were perfect with homemade pretzels and the sampling of beers and the burgers and fries, which were all delicious. I picked the Big Mamou as my main dish, which offered a sampling of Cajun offerings. It was all tasty, but the Shrimp Nola was my favorite by far.
We spent a wonderful afternoon at Rosamond Gifford Zoo. This is a lovely small zoo packed with a surprising number of animals at affordable prices ($8/adult, $4/youths 3 to 18 when we visited; check here for updated admission information.)
We liked how it felt like the zoo was nestled into park land--at one point we noticed a soccer field just beyond a bear. There are also enough indoor displays to make this a worthy destination on a day when the weather isn't quite as good as what we enjoyed.
There are a few updated interactive items for children, like a lift-the-flap sign about penguins and a small children's discovery trail where kids can pretend that they're tracking tigers. For the most part, though, the animals steal the show. When we visited, there were gorgeous snow leopard cubs on display and baby Fennec Foxes just getting acclimated to their new zoo home. We also saw penguins surrounding a zookeeper as she handed out fish. A barn houses farm animals, allowing for more hands-on activity.
There's a small gift shop and the Jungle Cafe, which offers standard fare as well as several salads and deli  sandwich options. Here, too, the choices were affordable, with every Kid's Meal coming in below $5. If you'll be in Syracuse with your family, a couple of hours at Rosamond Gifford Zoo will be time (and money!) well-spent.
For our overnight in Syracuse, we stayed at the Genesee Grande Hotel, which put everything we visited within ten minutes. I liked the friendly staff and fresh and pretty decor, and the girls were big fans of the koi pond and mermaid statue.
We all enjoyed a morning breakfast omelette with ham and cheddar & American cheese. And by all, I mean all. We are way too cheap to do the grand breakfast buffet options in the lovely dining room, but I was too hungry to be satisfied by a yogurt or pastry available for sale in the lobby. Instead, we ordered an omelette with sides of bacon, potatoes and fruit, and since portions are huge and there's always toast, too, we had a room picnic for that satisfied all of us for about $25.
---
And what ABOUT WonderWorks indoor amusement park? That was the main purpose of my trip to Syracuse, and I've written a separate review of WonderWorks here.
---
© 2012 Katie Beltramo
Katie Beltramo, a mom of two, is editor of Kids Out and About for New York's Capital Region. She also blogs at Capital District Fun.