Hannaford Kidz Expo 2013 at the Empire State Plaza
From toddler to teen, there's something for kids of all ages at the FREE annual Hannaford Kidz Expo at the Empire State Plaza! Scroll down for the details and the schedule!
The Hannaford Kidz Expo returns to the Empire State Plaza on March 2nd, 2013 with an exciting mix of brand new attractions and time-tested favorites your kids will love.
Make sure to visit KidsOutAndAbout.com when you're there: Enter to win a vacation at Six Flags Great Escape Lodge & Indoor Waterpark!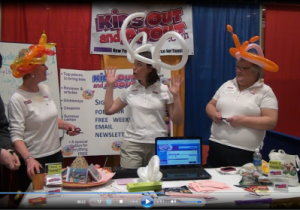 Click here for parking info! For GPS directions, use 279 Madison Ave, Albany NY. Free parking is available in the lots east and west of the New York State Museum, or for $5 you can park in Lot V under the Plaza (from Madison Ave., turn East on Grand St to get into the garage). Theater! Bounce houses! Arts and crafts! Booths of all kinds! Summer camp opportunities! Performances in the hall! A free train ride through the plaza! Plenty of parking! And of course... The KidsOutAndAbout.com team will be there! (Although perhaps we will not be wearing the same crazy balloon hats as last year.) Come to our booth and tell us your favorite place to take kids in the Capital District, and we will give you a cool prize. Plus we have all kinds of brochures about places to go in our area and summer camps as well.
About Hannaford Kidz Expo
Now in its eighth year, the Kidz Expo has certainly hit its stride. The 2013 event will encompass the entire Convention Hall, all seven meeting rooms, the Swyer Theatre in the Egg and more than half of the quarter mile long Concourse. In fact, the only thing small about the Hannaford Kidz Expo is the price you pay for the experience - it's free! Whether you're one of the 70,000 people that have attended the Kidz Expo before or are planning your family's very first trip, we look forward to seeing you at the Capital Region's premier family-friendly event.
Want a Sneak Peek?
KidsOutAndAbout.com publisher Debra Ross will be on Channel 13's Noon News on Friday, March 1, 2013 talking about all of the exciting things you'll see at Kidz Expo.
---
Schedule by time
All day:
Meeting Room 1: Reptile Adventures
Meeting Rooms 3 & 4: Healthy Hannaford Room
Meeting Room 6: CircusFit: Circus Activities throughout the day
Meeting Room 7: Radio Disney

10:00-11:30am: Afrim's Soccer, Meeting Room 5
10:30: Barney Showtime at The Egg
11:15: Zumbatomic, Meeting Room 2
12:00: Barney Meet and Greet at The Egg
12:15: Mozart, Meeting Room 2
12:30: CircusFit Showtime, Meeting Room 6
1:00: Tumbling Tykes, Meeting Room 5
1:15: Zumbatomic, Meeting Room 2
1:30: CircusFit Showtime, Meeting Room 6
2:00: Barney Showtime at The Egg
2:15: Merdwin the Mediocre, Meeting Room 2
2:30-4pm: Afrim's Soccer, Meeting Room 5
3:00: Barney Meet and Greet at The Egg
3:15: Capital Region Language Center, Meeting Room 2
3:30: CircusFit Showtime, Meeting Room 6
---
Schedule by place
Meeting Room 1: Reptile Adventures, all day
Meeting Room 2

11:15am: Zumbatomic
12:15pm: Mozart
1:15pm: Zumbatomic
2:15: Merdwin the Mediocre
3:15pm: Capital Region Language Center

Meeting Rooms 3 & 4: Healthy Hannaford Room

Meeting Room 5
10-11:30am: Afrim's Soccer
1pm: Tumbling Tykes
2:30-4pm: Afrim's Soccer

Meeting Room 6: CircusFit: Circus Activities throughout the day, showtimes at 12:30, 1:30 & 3:30

Meeting Room 7: Radio Disney
Swyer Theatre at The Egg: Barney in a fun-filled sing-a-long!
Showtimes at 10:30 & 2:00
Meet and Greet at Noon & 3:00
The event has already taken a place at this date:
Ages
0-15 months
15 months - 2 years
2-3 years
4-5 years
6-8 years
9-12 years
Adults & kids together