Cheaper By The Dozen: Free & Low-Cost Capital District Activities During the Holidays
by Katie Beltramo
Trying to save money and still have a good time with your family? Here are some ideas for fun on a shoestring budget.
Get Active.
1. Ice skate at Empire State Plaza. FREE skating begins December 5th, and skate rentals are cheap everyday and FREE on Fridays.
2. Go sledding! Here's a list of not-to-be-missed sledding hills in our area.
3. Take a winter walk or snowshoe. State parks offer cheap rentals and sometimes waive the snowshoe rental fee for scheduled events. Several places offer snowshoeing in our area.
---
Think Food.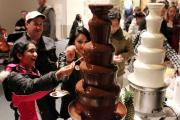 4. Get your kids involved with cooking. The cold weather is a great time to bake some bread, fix holiday treats together, or assemble a big soup. Sure, you'll need to buy the food, but you needed to eat anyway, right?
5. Enjoy more than just chocolate at this year's Taste of NY Holiday Expo  at the New York State Museum--listed as FREE this year. Or just visit the New York State Museum, any time.
6. Many farmers' markets are year-round, and they often have entertainment, sometimes an animal to pet and always, always FREE samples to try. Check out the Schenectady Greenmarket or the Troy Farmers' Market.
---
Enjoy Free Evening Events.
7. Check out holiday events like the Troy Victorian Stroll, Holiday on the Avenue: A Village of Scotia Holiday Tradition, or the Holiday Tree Lighting in Albany.  Or check out the Annual Santa's Playland Open House, a free weekend-long lights display in Round Lake.
8. Don't forget the perennial favorite: First Fridays in Albany.
---
Listen to or Make Music for Free.
9. Check out great free concerts, like the Empire State Youth Orchestra's FREE strings concert coming up on November 19th or  monthly noon concerts at Troy Music Hall.
11. Organize a sing-a-long playdate or party with friends (when my kids were younger a group of friends and I chose music together and took turns leading music activities each week) or go caroling.
---
Be a Fan.
12. Check your local high school's schedules for activities like music concerts or games. Or check out a local organizations to see some games or competitions (Afrim's has tons of soccer games on the weekends, or check out some awesome figure skating at the Hudson-Mohawk Figure Skating Club's Holiday Happiness Show. Cheer on the runners during Albany's Last Run 5K.
---
And In The Spirit of Giving. . .
13. Let's make it a baker's dozen: find ways to volunteer in your community or share your resources with others.
---
© 2017, Katie Beltramo
Katie Beltramo, a mother of two, is Editor of Kids Out and About-Albany and blogs at Capital District Fun. To contact Katie directly, click here.