Catch Some Olympic Fever with Your Kids in Lake Placid and the Adirondacks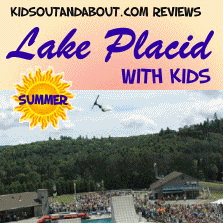 by Katie Beltramo
Walking around the village of Lake Placid, NY, my family and I expected cute shops and gorgeous scenery, but what struck us was the people: Everyone seemed quite freakishly fit. It makes sense, though. With mountains to climb or ski and lakes to kayak or skate, Lake Placid inspires activity all through the seasons. And it turns out that Lake Placid and its Olympics facilities, rather than simply a museum of long-ago sports contests (although, in fairness, there is a museum), is a current-day sporting mecca.
About ten thousand athletes, ranging from kids with promise to Olympic-level contenders, train in and around Lake Placid each year. The 2010 Vancouver Olympic games included 12 native residents of Lake Placid as well as others who had trained here. And it's not just the Olympics: 32,000 people compete in the annual Iron Man Competition (you know, for those who find just doing a marathon a little too wimpy), and while we were visiting, it was the annual Lake Placid Horse Show, so everywhere we turned there were jaunty and wholesome-looking 20-somethings wearing riding breeches.
But even amongst all of the sports and fitness focus, there was plenty for kids and families in Lake Placid. Check out our recommendations below.

Passport Program
Lake Placid offers an Olympics Passport ($29) that includes admission to all of the Olympic venues as well as discounts on activities and merchandise. For example, it includes one free admission to watch freestyle aerialists practice their moves over a giant pool of water on Wet & Wild Wednesdays (separately, it's $15/adult, $9/junior ages 7 to 12).
The passport a great option if you live near enough to make more than one trip, and it's good for both summer and winter visits, so you don't have to rush. If you're only visiting for a weekend, you'd do better to choose one or two destinations and enjoy them. Driving from one venue to the next might be lovely scenery for retirees, but kids are likely to get seriously bored.
Kid-Friendly Lake Placid
So what are your best kid-friendly options? Click on each link below to find out more.
Lake Placid Olympic Center: Take advantage of free and inexpensive opportunities to see world-class skaters.
The Bobsled Experience at Lake Placid: A unique adventure for thrill-seeking adults and kids 7 and up.
Take a Gondola Ride at Whiteface, near Lake Placid: An outing to please young and old, you can bring a picnic or do some biking along the trails of Little Whiteface mountain
Take a Ride Up Whiteface Veterans Memorial Highway near Lake Placid: With the help of your car and a mountain elevator, you'll be up in the clouds in no time.
The Wild Center at Tupper Lake: It seemed counter-intuitive to leave our cabin in the woods and drive to a museum to experience nature, but we were so glad that we did...
Family-Friendly Food
Click here for our restaurant reviewsof three kid-friendly places to eat in and around Lake Placid.
While You're in the Adirondacks
Consider hopping over to Old Forge to the Adirondack's favorite play place. Click here for the KidsOutAndAbout.com review of Enchanted Forest/Water Safari.
Almanzo Wilder Homestead
Or if you're headed to Malone, NY to visit the Almanzo Wilder Homestead (the childhood home of Laura Ingalls Wilder's husband, Almanzo), read our reviews of the museum and of Malone so you know where to stay, where to eat, and what to expect from your visit.
---

© 2011, Katie Beltramo
Katie Beltramo, a mother of two, is Editor of Kids Out and About-Albany and blogs at Capital District Fun.
Photo courtesy of Olympic Regional Development Authority.